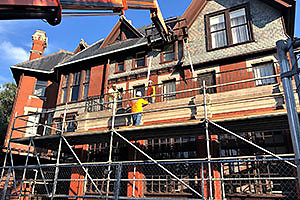 This multi-year project has the largest scope of those being funded by the Pride & Preservation Campaign.
In the summer and fall of 2017, Brucemore staff and Trustees contracted with OPN Architects, Cedar Rapids, to perform a comprehensive Mansion Condition Report.
The report outlined a crucial need for preservation of the exterior of the mansion to mitigate water infiltration, which has caused damage to exterior elements and poses a significant risk to the interior. Many important features of the mansion currently show critical deterioration.
Phase I completed in April of 2019 stabilized and restored the enclosed Service Porch.
Phase II completed in March of 2020 focused on the roof and south façade of the mansion, specifically the windows and doors, brick, masonry, roof cresting, and slate. Stabilization of the structure focuses on fixing the systemic causes of deterioration rather than only symptoms.
Phase III completed in December of 2020 focused on the east and west façades, including all windows and doors, the the west porch, and the porte cochere on the south side.
Phase IV completed in January 2022 to preserve the North Elevation and complete work on the porte cochere on the south side.
Phase V completed in December 2022 on the south and west porches; the windows of the Grant Wood Sleeping Porch; and the breakfast porch, which sustained additional damage during the 2020 derecho.
Brucemore received one of 10 "Preservation at its Best Awards" for "Best Community Effort" in the state at the Preserve Iowa Summit in June 2020. This award recognized over 500 donors, contractors, staff, and volunteers who ensured this project's success. The organization also received a Certificate of Merit for this project at the Excellence in Iowa History Awards presented by the State Historic Society of Iowa Board of Trustees in 2023. Read more here.
Thank you to the donors to the Pride & Preservation capital campaign, The Hall-Perrine Foundation, McIntyre Foundation, Iowa Economic Development Authority, and National Trust for Historic Preservation.
A closer look…