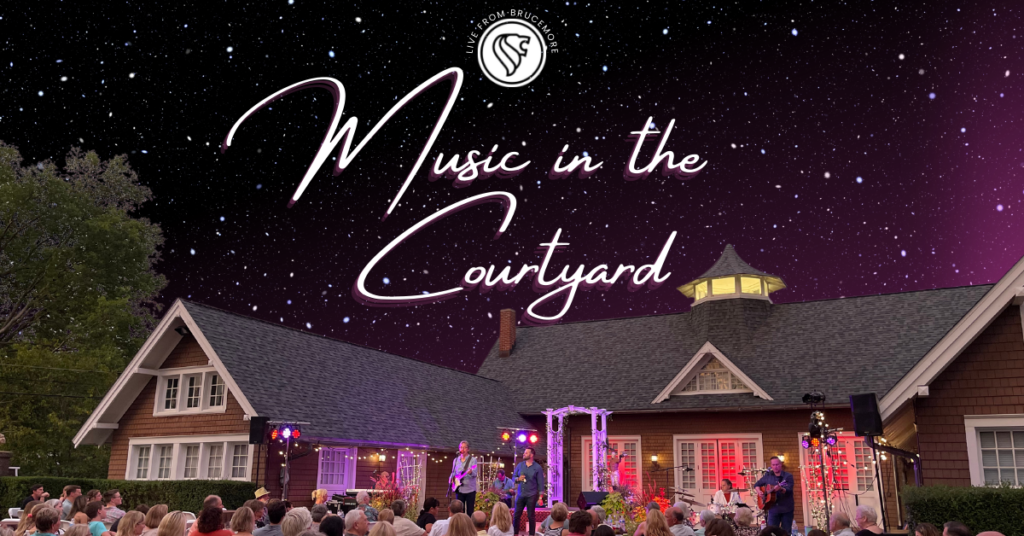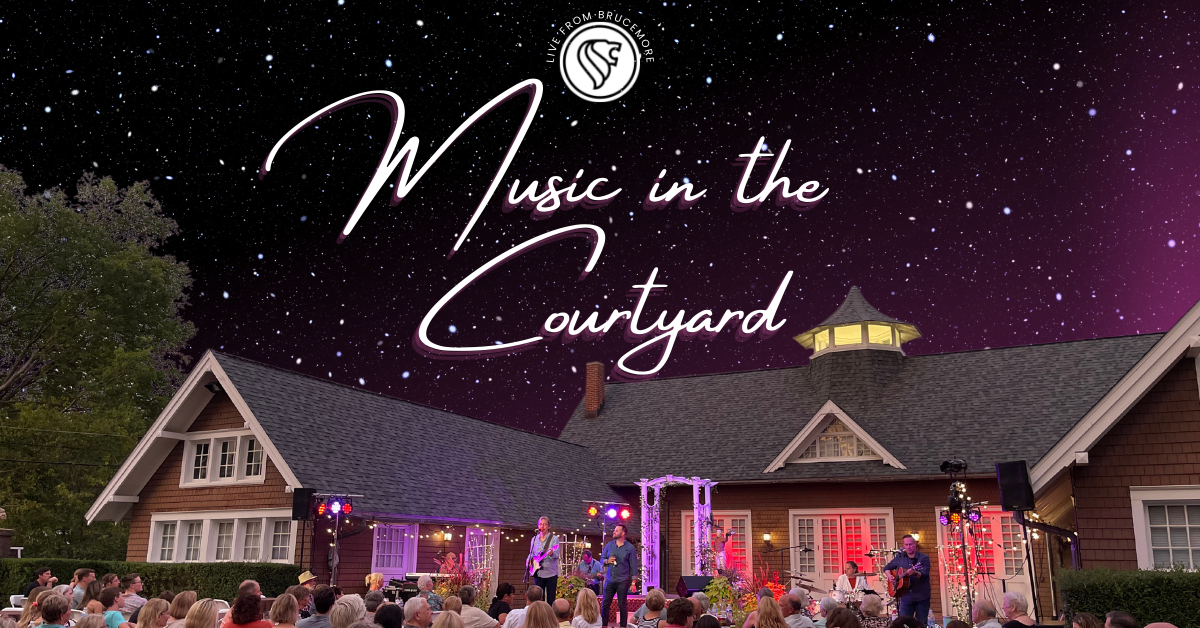 Music in the Courtyard
Rooted in a 20 year tradition, Brucemore's Music in the Courtyard series returns in 2023 with three special shows! Relax outdoors amongst good company and enjoy listening to music under the stars. Music in the Courtyard is part of the Artisan Studio live performance series, aiming to support Iowa-based singers, songwriters, and technicians in their personal and professional pursuits.
Choose from one of the three performances, or come see them all!
Tickets range from $30 for individual seats to $220 for a table of up to 8 people. Please use the links below for full details. Brucemore donors receive a discount by signing in on the purchase page.
Facets of Love – June 1, 2, and 3

From innocent beginnings to toxic conflict and enduring companionship, explore the many facets of romance and chemistry between two people with featured artists Caleb Woods and Melissa Tormene and musicians Jim Coates, Ethan Dix, Lincoln Ginsberg, and Dave Nanke.
Hope and Other Foolish Things – July 27, 28, and 29

Take a night off by taking a night out.

Join Daren Barker, Lacie De Souza, and Layton White for a musical evening all about staying positive in the modern age and reveling in all the good things. A truly eclectic evening that brings together three very different performers focused on a lot of fun and thoughtful music. They will be joined by multi-instrumentalists EJ Swavv and Gerard Estella.

Presented in the unique space that is the Courtyard on the grounds of Brucemore, this show dares to offer an evening of hope and other foolish things.
Hear, There, and Everywhere – August 31 – September 2, & September 7 – 9

What happens when you ask five powerhouse singers from different mediums – what songs have you always wanted to share with an audience? You get a show that is so large in scope that you need two weekends to make sure you can cover everything. Welcome to "Hear, There, and Everywhere," featuring Jane Pini, Scott Dix, Alisabeth Von Presley, and more. If that isn't big enough, they are backed by the Brucemore Boyz Band – Jim Coates, Gerard Estella, Lincoln Ginsberg, Greg Kanz, and Dave Nanke.

Presenting a night of music and heart that you can sing along to. Hear the roars and the whispers, and the lows and the highs, of artists who have been here, there, and everywhere and have the t-shirts to prove it!
---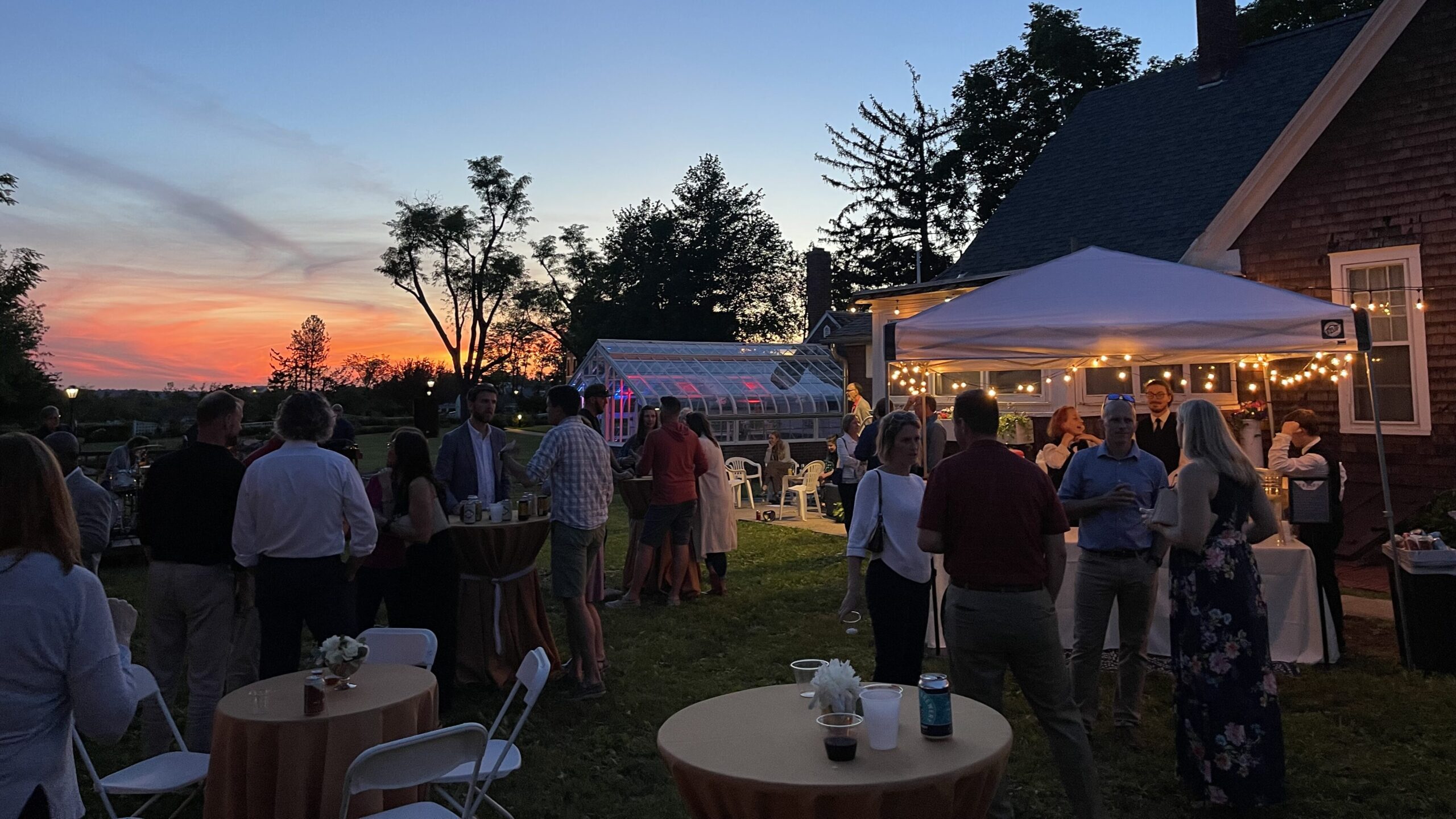 A Brucemore Night Out Cocktail Party
Relax and reconnect with friends and neighbors at Brucemore! Join us for a cocktail party with excellent food, delicious drinks, good company, and easygoing ambience. Your ticket includes food, drinks, and fun – the best combination! Capacity is limited for this one night event.
Friday, June 16, 6:00-9:00 PM
Tickets: $75 per person
*This event is for ages 21+.
---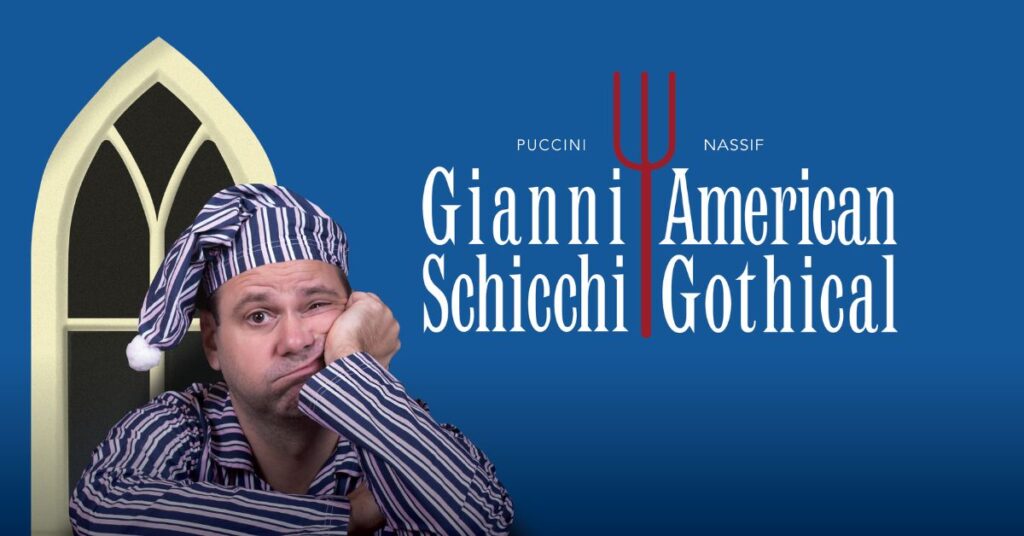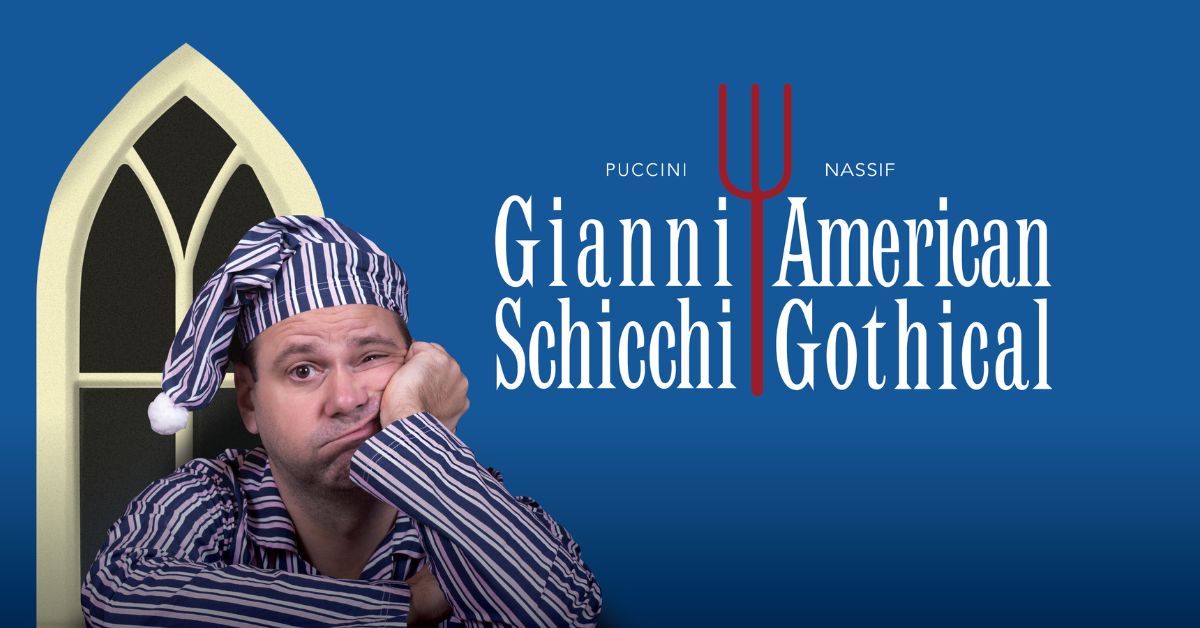 CR Opera Double Feature
Double your fun with a double feature of comedic opera! Puccini's hilarious one-act, Gianni Schicchi, filled with imposters and ingenuity, takes centerstage first. The second feature, Robert Lindsey-Nassif's, American Gothical, is a laugh-filled love letter to one of Iowa's most famous paintings. CROpera's season culminates in something old, something new, something operatic just for you!
Thursday – Saturday, June 22 – 24 at 7:30 p.m.
Tickets: Adults – $30; Students (under 18) – $15
Brucemore donors receive a discount by signing in on the purchase page.
---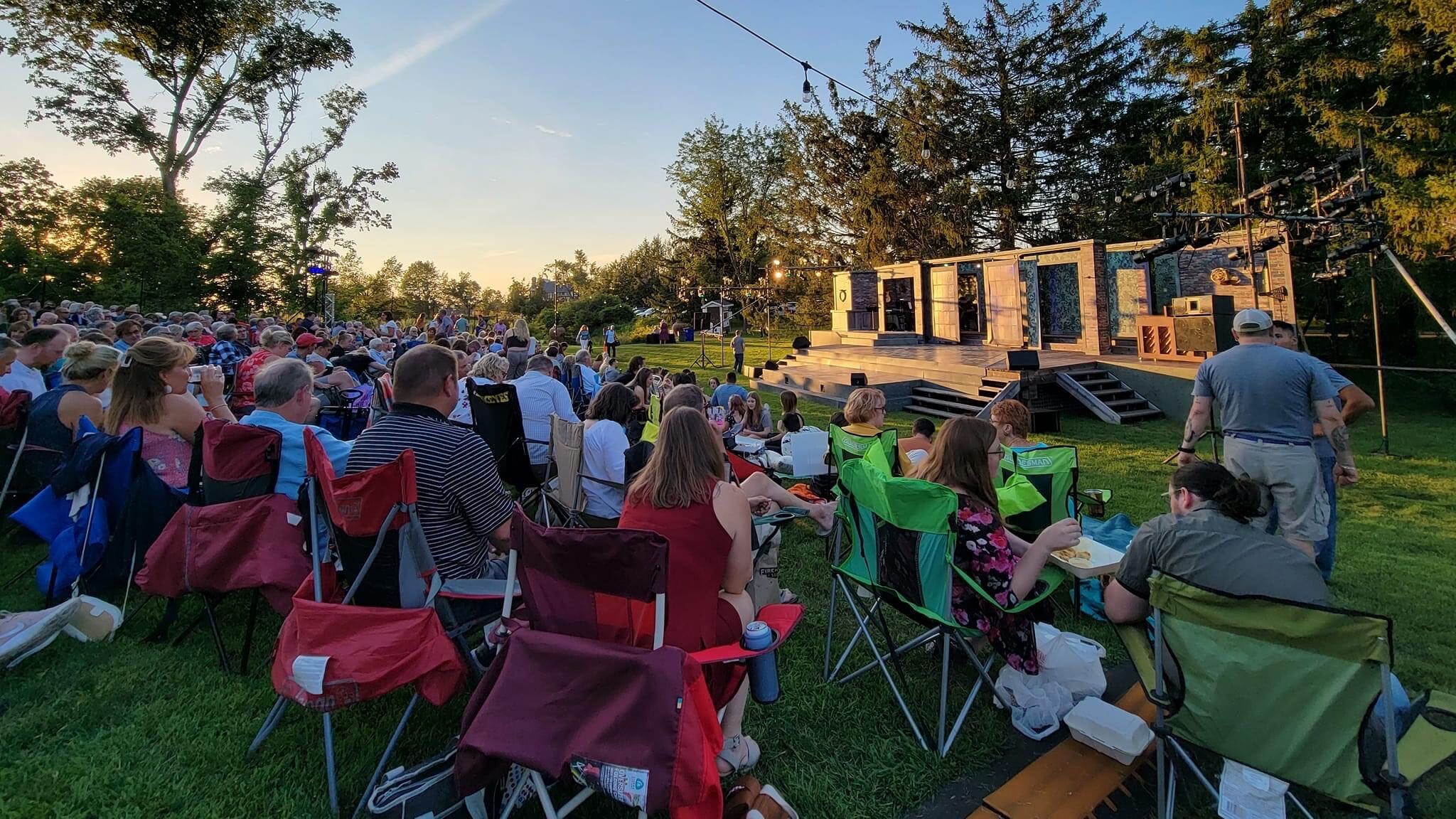 TCR Outdoors at Brucemore
Theatre Cedar Rapids returns to the Peggy Boyle Whitworth Ampitheater with two musicals!
All ticket purchases for TCR Outdoors at Brucemore Performances are processed through the TCR box office. Please use the information below to contact TCR staff with questions about tickets.
TCR Contact Information
102 3rd Street SE
Cedar Rapids, IA 52401
319-366-8591
tickets@theatrecr.org
Box Office Hours:
Mon-Fri 12pm-5pm
Brucemore donors can receive a code for 20% off tickets. Please check your email or call 319-362-7375 to receive your code.

Madagascar – July 7-9, 13-16, & 20-23

Alex the lion is the king of the urban jungle, the main attraction at New York's Central Park Zoo. He and his best friends – Marty the zebra, Melman the giraffe and Gloria the hippo – have spent their whole lives in blissful captivity before an admiring public and with regular meals provided for them. Not content to leave well enough alone, Marty lets his curiosity get the better of him and makes his escape – with the help of some prodigious penguins – to explore the world. Fun for the whole family!

Tickets are $10 (youth 2 and under), $15 (youth 3-12), and $25 (adults). All ticket purchases are subject to a $3 processing fee.
A Little Night Music – August 11-13, 17-20, & 24-27

Sondheim's dreamy, brilliant masterpiece. Desiree Armfeldt, a glamorous and beautiful actress, is weary of her life on the road. A chance encounter with an old flame sets in motion a tangle of love affairs, leading to a magical weekend in the country where confusion rules, jealousies rage, and passionate desires reign. A romantic comedy of errors. Winner of three Tony Awards including Best Musical, A Little Night Music is sumptuous, sexy, and will leave outdoor audiences thoroughly enchanted.

Tickets are $20 (student), and $32 (adult). All ticket purchases are subject to a $3 processing fee.
---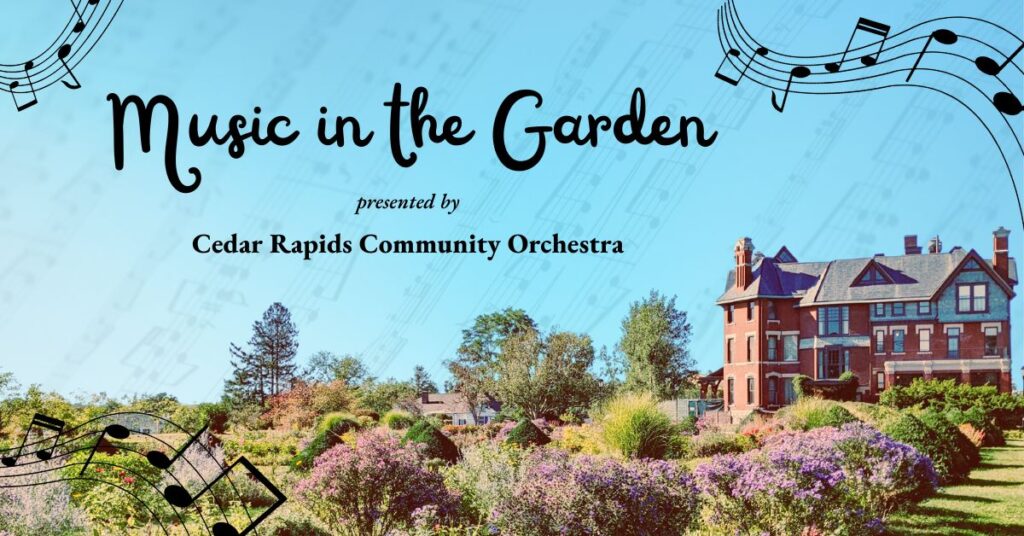 Music in the Garden Presented by
Cedar Rapids Community Orchestra
June 11, July 16 and August 13 from 12:30 to 4:00 PM
Let the Cedar Rapids Community Orchestra provide the soundtrack for your Brucemore visit!
During select Sundays this summer members of the Cedar Rapids Community Orchestra will perform in the Brucemore formal garden. Visitors are welcome to stay for the full performance or listen to the music while they take a stroll around the grounds. There is no charge to visit the garden, so these performances are free and open to all! While you're here, consider completing your visit with a ticketed guided or self-guided tour of the mansion.
---
Looking for information about our upcoming tours? Want to take an art class? Check out our calendar for information about all our scheduled tours, programs, and events!