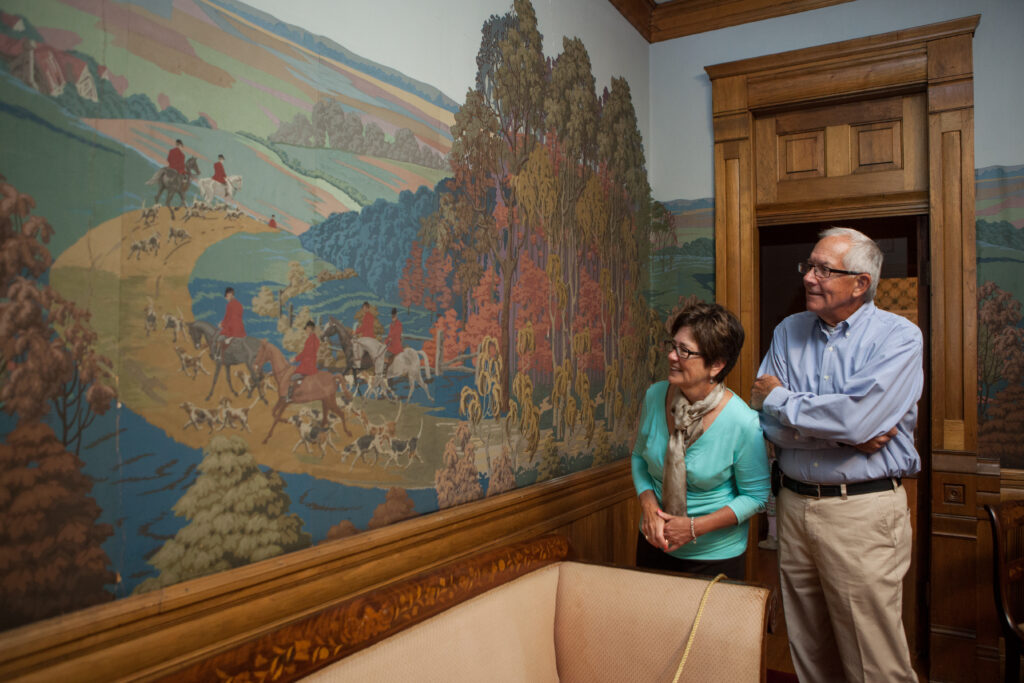 Ticket Options
Buy tickets for upcoming tours and events at Brucemore! Become a member to receive select discounts.
Take a Tour

Grounds:

Open daily for self-exploration through December 31
Mondays – Fridays, 8:00a – 4:30p
Saturdays, 9:30a – 4:30p
Sundays, 12:30p – 4:30p

Holiday Mansion Tours:

Through December 31, 2022
Thursdays – Sundays

View the calendar for times, admission prices, and options.
Purchase tickets in advance – space is limited.

"History Ungated" Digital Tour: Scan the QR codes at various points of interest to learn more about the estate.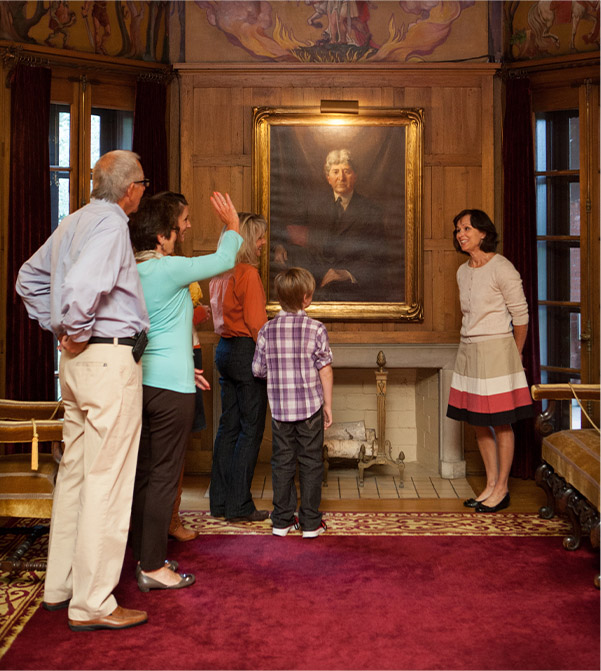 School & Group Tours
For groups of 16 or less, please visit our calendar to purchase tickets for upcoming tours. For groups of 17 or more, please contact us to inquire about opportunities and for more information. Group tour options are limited. on these limited availability and limited capacity opportunities.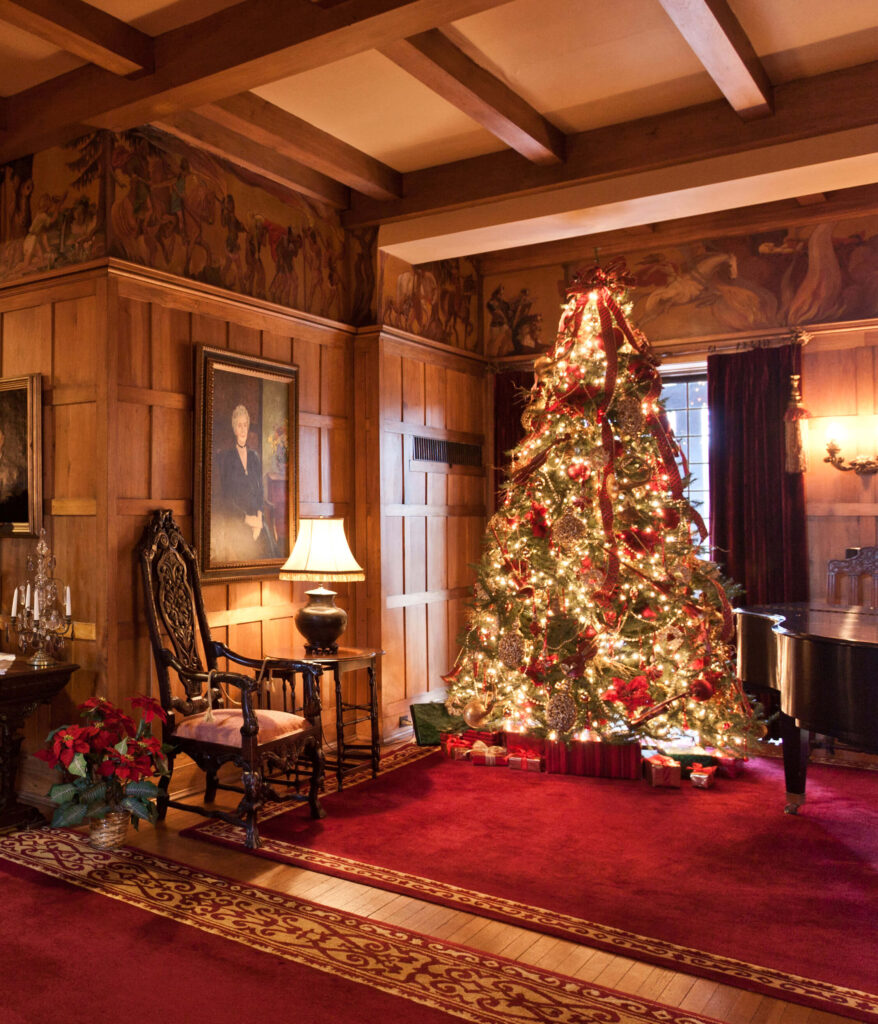 Holiday Tours
Named one of the top 10 holiday tours at a historic house museum by USA Today in 2019 and 2021, you don't want to miss this holiday tradition beginning annually mid-November and running through the end of the year.
Every year, Brucemore comes alive at the holidays with special tours featuring the mansion in all of its Christmas splendor. Tours include music from the Skinner Pipe Organ and incredible holiday décor.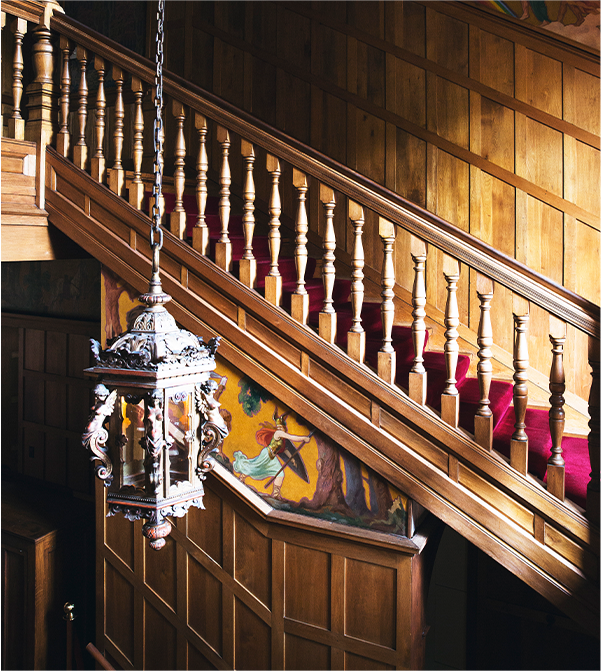 Ticket Policies
Refund and Exchange Policy

Ticket sales are non-refundable. A request to transfer the value of unused tickets into a tax-deductible contribution in support of Brucemore's mission may be made up to 24 hours prior to the program or to exchange the value of the tickets to a different date or time of the same program, subject to availability. Other policies may vary.
Inclement Weather Policy

Tours and events may be canceled if weather or other conditions could jeopardize the safety of anyone involved. Outdoor programs may be held in a light rain or be delayed to allow inclement weather to pass. News related to canceled programs will be posted on the website.

If Brucemore cancels the program before it begins or before intermission (as applicable), guests may have options to exchange tickets for another offering of the same event (pending availability). Tickets are non-refundable, however, the ticket value may be credited as a tax-deductible contribution to Brucemore within seven days. Policies may vary with partner events.
Ticket and Tours FAQ
General
Do I need to pay to enter the estate and walk on the grounds?
Is a reservation needed to visit Brucemore?

You do not need a reservation to visit the grounds on your own. We do recommend advance reservations for tours and most programs. Please visit our calendar to see upcoming opportunities.
Touring the Mansion
Can I take pictures inside the mansion?

Yes. Photography is allowed during tours for personal, non-professional use. Tripods, selfie-sticks, or other photography equipment will not be permitted. Photographs should not distract from others' enjoyment.
How large is the mansion?

Brucemore is approximately 15,000 square feet.
How many fireplaces, rooms, and floors does Brucemore have?

There are 21 "main" rooms, 14 fireplaces and four floors plus an attic.
Is all of the furniture original to the house and families?

Much of the furniture you will see on display belonged to the second or third families to live at Brucemore; however, some pieces had to be replaced with replicas or similar antiques.
Is the mansion handicap accessible?

The Brucemore mansion includes multiple floors and several staircases. Because of the historic architecture, some spaces are not accessible. Due to preservation work, the wheelchair lift that offers accessibility to the first floor will be unavailable until late 2023. An elevator is not available from the first floor to the other floors at any time. Learn more about accessibility at Brucemore.
Group and School Tours
Is there an age requirement for students visiting Brucemore?

You do not have to be a certain age to visit or attend a program at Brucemore. Different programs are best suited for different ages. Tours of the mansion are recommended for 4th grade and older due to the concepts and historic collection.
Where do we park?

Parking is available on site a short walk from the mansion or Visitor Center. Buses must follow special instructions. Large events may not be able to accommodate on-site parking; please see the event calendar information for exceptions.
Is bus parking available?

Yes. Bus parking is available near the Visitor Center. Buses must arrive via special directions as they are unable to fit in our historic gates.
Is there a lunch area at Brucemore?

There is not a designated area indoors or outdoors to eat; however, you are welcome to bring your own blanket or chair to picnic on the grounds. Please carry out any trash to help our small staff keep the grounds beautiful.
Does my group have to arrive together?

Please let group members or chaperones know where they can meet the group.
What is your payment policy?

Brucemore admission is to be paid upon arrival. For a speedier process, please have the number of children and adult chaperones ready. Payment can be made by cash, check, or credit card and should be paid in one sum.