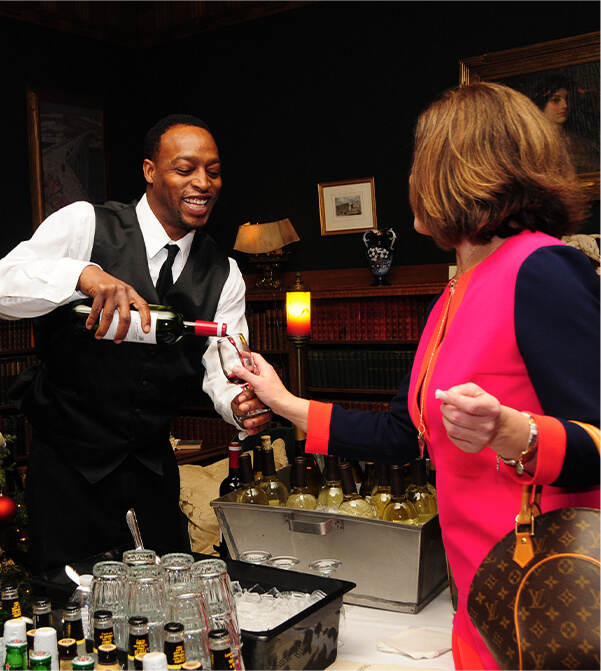 Event Hosting
Brucemore provides a unique setting for corporate members and non-profit organizations to entertain clients, employees, and the community. Located on 26 acres in the heart of Cedar Rapids, Brucemore's elegant mansion, one-of-a-kind spaces, and stately gardens and grounds provide the flexibility for meetings, celebrations, performances, and more.
Rentals FAQ
Can I have my wedding/wedding reception/wedding photos at Brucemore?

No. When Margaret Douglas Hall bequeathed Brucemore to the National Trust for Historic Preservation, she provided a few limitations—no partisan political events and no private events.
May I serve alcoholic beverages?

Yes. Alcohol may be served by following and abiding by any laws and regulations. Contact us for more information.
Am I required to use only preferred vendors?

Yes. Brucemore has approved caterers who have been trained to work within the guidelines of preserving the historic integrity of the space. See our preferred caterers list below.

Caterers

Winifred's Catering

319-365-5176

Feedwell Kitchen and Bakery

319-409-6905

The Wright Touch Bake Shoppe and Catering

319-294-BAKE (2253)

319-431-5388

Catering by LJ's

319-377-6647

Flowers

Cedar Memorial Flower Shop

319-393-8004

Beverages

Benz Beverage Depot

319-365-2556

Event Furniture Rentals

R&D Events

319-202-8374
May tours of the mansion be included in my rental?

Yes. Depending on the size and location of the event, self-guided or guided tours may be included in your event. Contact us for more information on fees and availability.
Can I have a birthday party, retirement celebration, or baby shower at Brucemore?

No. Only corporate members and non-profit organizations are eligible to rent Brucemore for business-related or mission-driven events.
May I have amplified music and entertainers?

Yes. Music and entertainment makes a great addition for many events. Entertainment at outdoor events must conclude by 10:00 p.m. and comply with city sound-level ordinances. Speak with staff about other aspects related to adding music and entertainment that will need to be taken into account to make your event successful.
Is parking available on the estate?

Yes, parking is available on the estate for many events. Our staff will work with you to create a parking and access plan best suited to the size and location of your event.