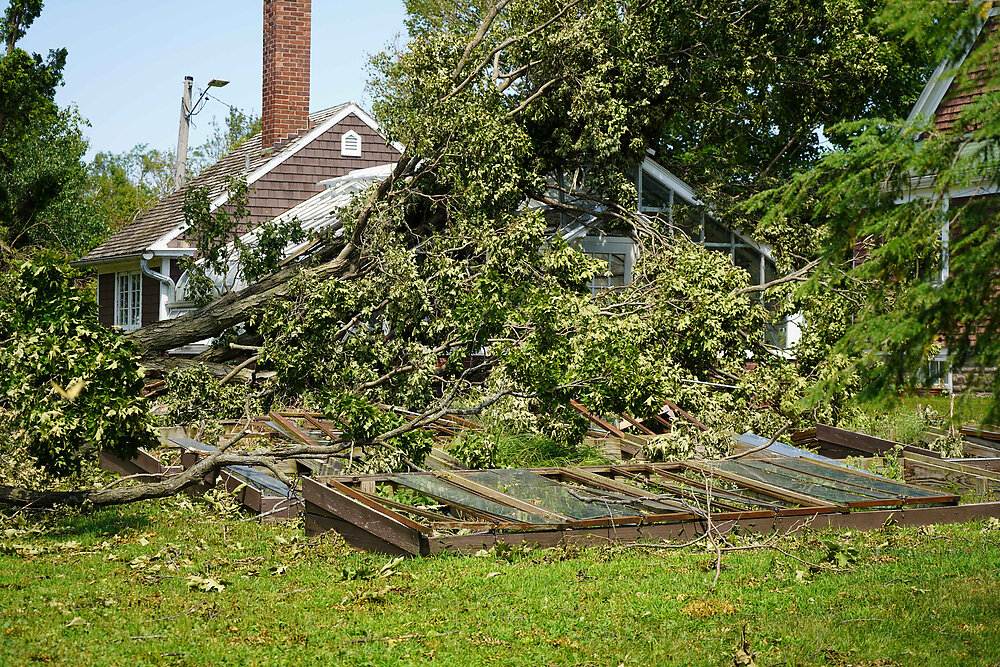 Hope After the Storm
When you visit Brucemore, you may be wondering why the grounds look so different from many of the images and videos you see on this website. Brucemore, Cedar Rapids, and other parts of Iowa were forever changed in 2020 by a storm called a derecho. Brucemore and the surrounding communities have entered an era of storm recovery.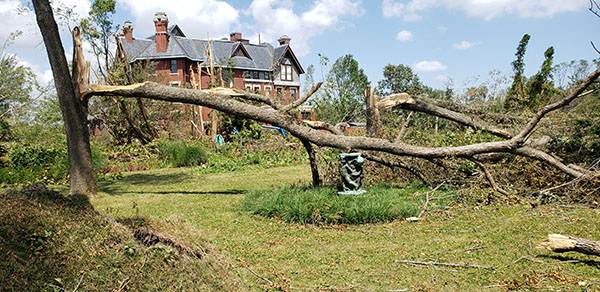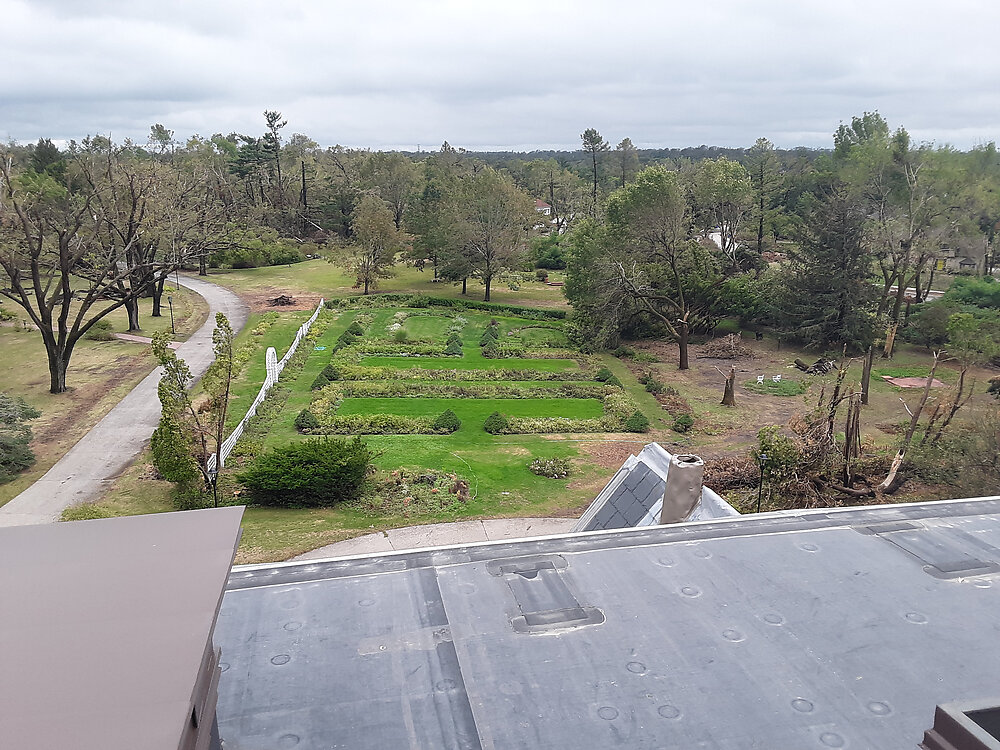 An Inland Hurricane
On August 10, 2020, a powerful windstorm known as a derecho swept across the Midwest, devastating crops and property across eastern Iowa. The derecho reached hurricane-like windspeeds of up to 140 miles per hour and earned the distinction of being the most expensive thunderstorm in United States history. Much of the city was without power for more than a week.
The 26-acre Brucemore estate suffered damage to all seven historic buildings, two operational buildings, hundreds of yards of fencing, multiple gates, and several historic features. A portion of the 1915 glasshouse structure of the Lord & Burnham Greenhouse collapsed under the weight of a century-old tree. The force of the wind caused the slate of the mansion roof to scatter across the garden and the windows of an east facing porch to implode.
In 60 minutes of violent, sustained force the straight-line winds destroyed more than 70% of the estate's tree canopy. Century old trees were uprooted from the ground and trunks were bent in half. This devastation immediately and fundamentally changed the view of the landscape.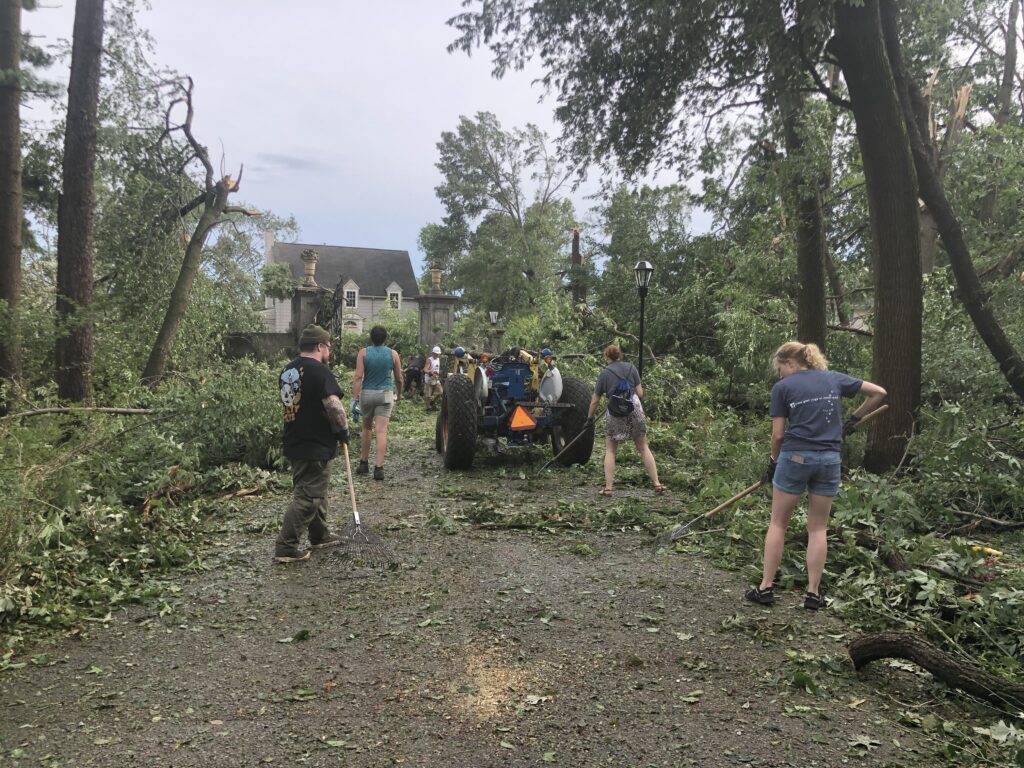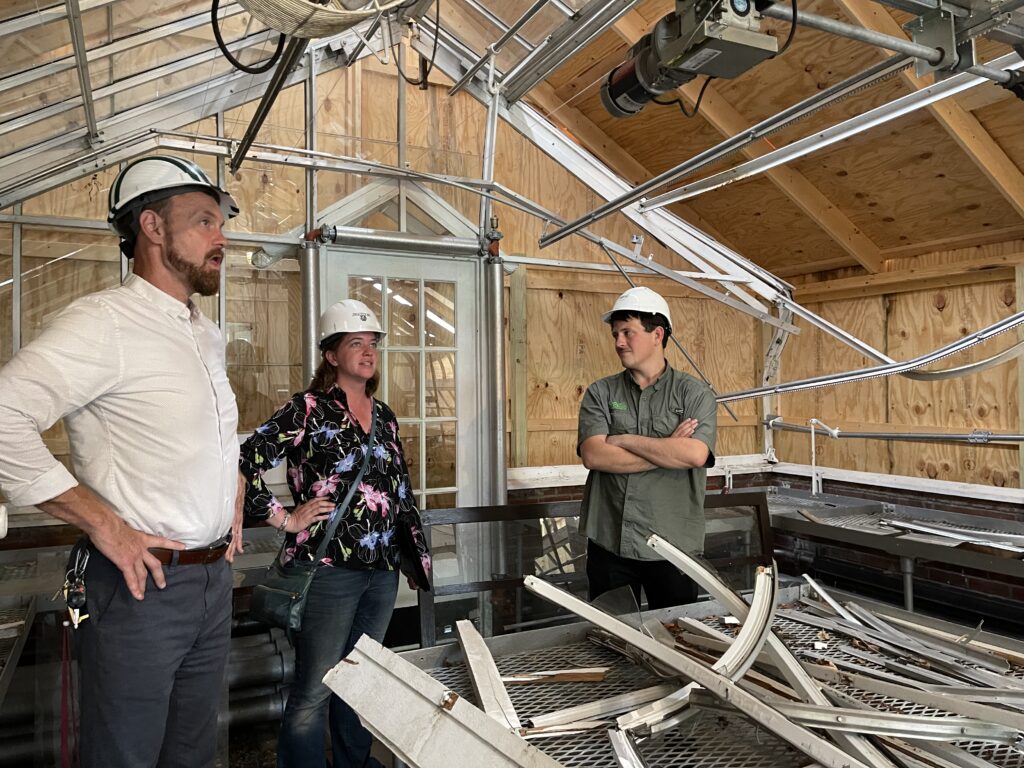 A Multi-Year Recovery Effort
With an estimated $3 million in overall damage, experts believe this devastation is among the worst suffered by a cultural landscape in the last century. Attention immediately focused on clearing roadways, ensuring emergency access, and mitigating future risks to the historic structures. Recovery efforts through the remainder of 2020 and 2021 focused on removing debris and fallen trees, as well as repairing the buildings.
As a historic landscape, the restoration of Brucemore requires a thoughtful, patient approach to ensure its authenticity and national significance. Designed by Ossian Cole Simonds, a leading landscape architect in the early 20th century, the grounds serve as a tangible link to the past, as well as a vibrant setting for people to enjoy today. Since the days following the storm, staff have been assessing previous landscape plans, conducting original archival research, seeking outside scholarship, and working with expert assistance to develop a Historic Landscape Master Plan to guide a multi-year process to replenish the estate and improve modern day use.
The responsibility to preserve this estate offers an opportunity to restore it in a way that enhances the impact it makes in our lives. Brucemore will recover from the devastating storm and be better positioned organizationally to care for the estate when confronted with unexpected future challenges. Through resilience, courage, and community support, Brucemore will maintain its living connection to a century of history and continue to benefit Iowa residents and visitors.