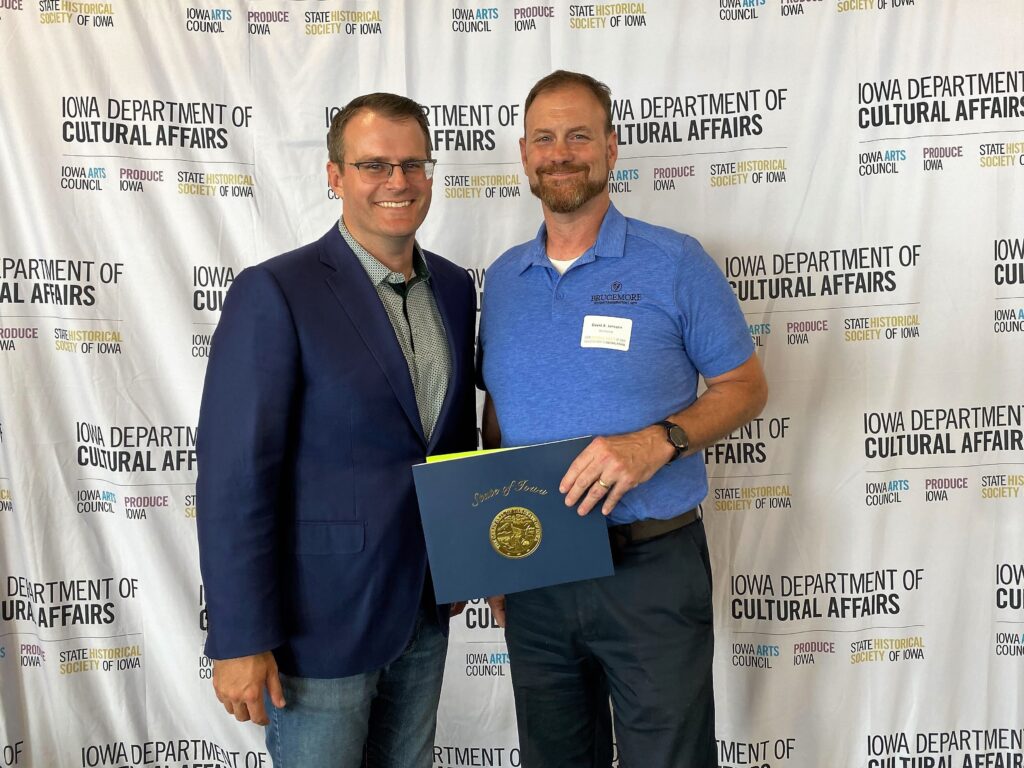 Brucemore received statewide recognition at the annual Excellence in Iowa History Awards presented by the State Historic Society of Iowa Board of Trustees.
On June 14, CEO David Janssen traveled to Clear Lake to participate in the award ceremony on behalf of the organization. These awards recognize individuals, organizations, and communities that make outstanding contributions to the field of Iowa history.
Brucemore received the Certificate of Merit for Excellence in Archaeology and Historic Preservation in recognition of the work completed during the multi-year Mansion Envelope Restoration Project (MERP). Work on MERP began in 2017 and was divided into five phases, each focused on stabilizing and preserving sections of the mansion exterior. This was Brucemore's most comprehensive preservation project since becoming a National Trust site in 1981.
Facilities Manager Rachel Potthoff joined the Brucemore staff in May of 2020 as the Preservation Project Manager. Rachel's dedicated work on the project contributed to MERP meeting the criteria for Excellence in Archaeology and Historic Preservation, including ensuring the project adhered to the Secretary of the Interior's Standards and Guidelines for Archaeology and Historic Preservation.
"By following best practices for historic preservation, we hope to maintain the mansion as a valuable community resource for decades to come," Rachel said, "Working with partners who appreciate our needs helped us to meet these standards."
Much of the work on MERP was supervised by preservation partners OPN Architects and Rinderknecht Associates, Inc. These companies have worked with Brucemore on numerous preservation projects across the estate throughout the last 40 years. Their knowledge of and commitment to working with local subcontractors enables detailed work to be completed on time and in best practice for historic preservation while keeping the economic impact of the project within Iowa.
Major preservation projects and landscape restoration are made possible by donations and grants from The Hall-Perrine Foundation, Iowa Economic Development Authority, and over 700 individuals, foundations, government agencies, and businesses who contributed to the Pride & Preservation capital campaign. This campaign launched in 2018 with the goal to fund preservation of historic assets, investment in capital infrastructure, and improvements to security and fire initiatives. After the derecho in August 2020, campaign funds were also allocated to support derecho recovery efforts and a multi-year landscape restoration process of the 26-acre estate. The fund exists today as the Preservation Fund, which continues to support sitewide projects.