Digging Out of the Wreckage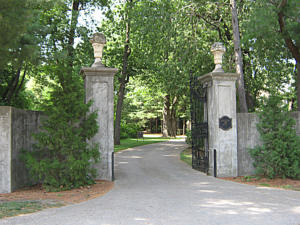 On August 10, 2020, a straight-line windstorm known as a derecho tore through the Midwest, leaving wide-scale devastation in its wake. It caused $11 billion in damage, making it the costliest thunderstorm in U.S. history, according to the National Oceanic and Atmospheric Administration. Cedar Rapids was the hardest-hit city in the storm's path and in less than an hour, the derecho caused more than $3 million in damage to the Brucemore estate, making it one of the worst disasters to hit a U.S. cultural site
When faced with the enormous task of recovery—where do you begin?
For the staff at Brucemore, who took shelter in various buildings as the storm passed, recovery began the moment they opened the doors and realized they would have to work as a team to clear a path to leave the property.
In the first moments after stepping outside, it was hard to determine the extent of the damage—trees had fallen in all directions, windows were smashed, and nothing looked familiar. By the time staff made their way to the Linden Drive gates, it was clear it would take a long time to restore the historic entrance.
Preservation & Recovery Efforts
Century-old trees smashed through the Linden Drive gates, twisting and mangling the elaborate wrought-iron detailing. Many other stately trees lining the property were snapped or uprooted, crushing the perimeter fencing below.
Restoration is currently underway to restore the historic gates' shape and functionality; they are expected to return during the fall of 2022. The trees that once lined the drive will be replanted, and given time, they will help return the drive to a vision of the Douglas era landscape.