The Study was restored to its 1910 appearance in 1997. Restoration of the Sitting Room/Study included furniture conservation and reproduction, installation of new window treatments, and faux painting of several surfaces.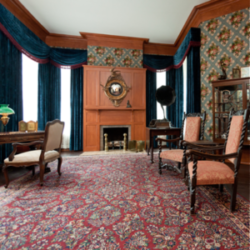 The room was first stripped bare as the wood and plaster surfaces were prepared. The canvas on the wall, ripped and bulging in some places, was removed from the walls and ceiling.
Professional faux painter Cindi Upton of Davenport painted the wood baseboard, door and window surrounds, pocket doors, side door, and fireplace to look like dark cherry wood. The project was not completed until 1997 after locating and installing the appropriate wallpaper.
All of the changes made to the Study were based on the furnishing plan adopted by the Brucemore Board of Trustees and approved by the National Trust's curatorial staff.
A Closer Look