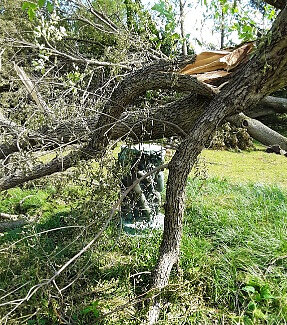 Every winter, Project GREEN hosts a series of three educational presentations about gardening and environmental topics. These are held at the Iowa City Public Library, and are free and open to the public.
A representative from Brucemore will speak about the impact of the derecho that hit the Midwest in August 2020 with winds of over 110 mph and recovery efforts. The hurricane force winds damaged Brucemore's 26-acre gardens, seven historic buildings, gates, and much of the statuary. More than 70% of the tree canopy was destroyed.
For the past 100 years, Brucemore's landscape has served as a living record, showcasing the history of the estate and the work of famed landscape architect Ossian Cole Simonds who designed much of the gardens between 1910-1930. This site's story is a lens to the past and a reminder of the people, events and drive that shaped the local community. Despite the devastation, there is hope, as thoughtful consideration and planning have begun to move forward in restoring Brucemore.
The Second Sunday Garden Forums are cosponsored by Project GREEN and the Iowa City Public Library. The events are free and open to the public.
Free Activity
View our COVID Policy