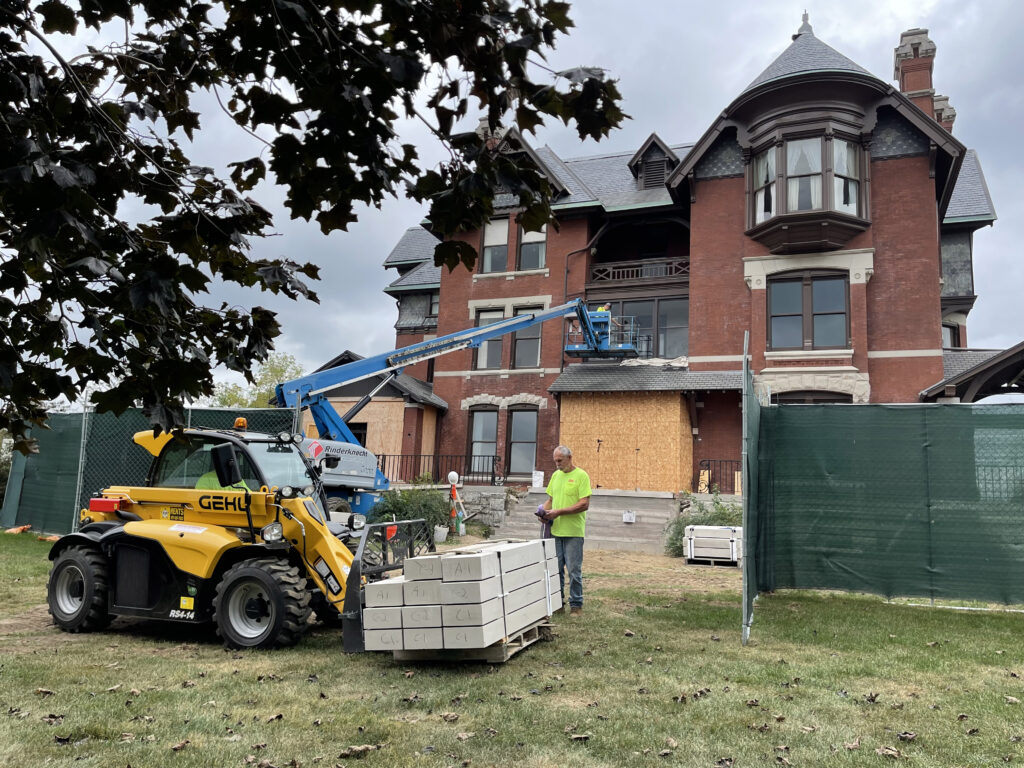 Brucemore, a nationally significant historic site located in Cedar Rapids, Iowa, completed Phase IV of the Mansion Envelope Restoration Project. Over the last year, contractors stabilized the north façades of the 1880s mansion by addressing causes of deterioration in the glass, woodwork, doors, light fixtures, and brick walls. This is part of a larger, multi-year project that began in 2018 to preserve the iconic building and protect the works of art, furnishings, and documents housed inside the structure. Phase V will begin in the spring of 2022 on the south and west porches; the windows of the Grant Wood Sleeping Porch, and the Breakfast Porch, which also sustained structural damage during the 2020 derecho.
"I am proud we were able to continue this project despite the challenges of the pandemic, derecho recovery efforts, and supply chain issues. That is a credit to our contractors, architects, and staff," said Executive Director David Janssen. "When we identified the need to accelerate our preservation work, the community responded with unbelievable support. It is gratifying to be able to report back that we are making great progress."
In 2018, Brucemore launched Pride & Preservation, a capital campaign to support the organization's three most critical areas of need—preservation of historic assets, investment in capital infrastructure, and improvements to security and fire initiatives. When the derecho caused more than $3 million in damage in August 2020, campaign funds were also allocated to support derecho recovery efforts and a multi-year landscape restoration process of the 26-acre estate. Major Preservation projects and landscape restoration are made possible by donations and grants from The Hall-Perrine Foundation, Iowa Economic Development Authority, and over 700 individuals, foundations, government agencies, and businesses.
The mansion is open for self-guided tours of the first three floors Thursday through Sunday afternoons and the grounds are open daily. View visitor information here.