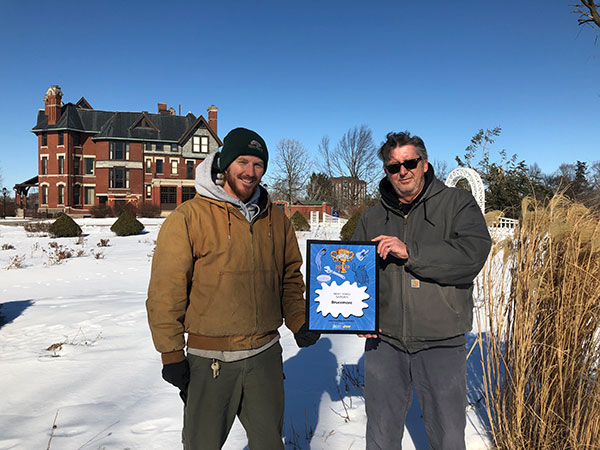 Brucemore was voted the Best Garden and Landscape in the Cedar Rapids and Iowa City area in Little Village's annual award competition for the second year a row! Readers had the chance to vote for their favorite businesses and organizations in a number of categories.
"It's an honor to be recognized for 'Best Yard/Garden in the CRANDIC' award," said Historic Landscape Manager Aaron Brewer. "It's a reflection of the decades of stewardship that have taken place at Brucemore, and the hard work that goes in to providing a safe and beautiful place for our visitors to experience and enjoy."
Brucemore's bucolic landscape — with its rolling yards, orchard, pond and stunning gardens — is more than a beautiful setting. It exhibits more than 130 years of history and was designed by nationally renowned landscape architect O.C. Simmonds.
The Brucemore landscape was impacted by the August 10 derecho, which caused extensive damage to the structures and destroyed more than 70% of the mature tree canopy.Clean-up efforts have been on-going and will continue through 2021; however, the grounds are open most days of the week for walking, picnicing and leisure activities.
"The desire for people to find an outdoor escape during the pandemic has been really important," said Brewer. "This award provides great motivation for our staff to take pride in honoring the historic landscape and put our best foot forward in creating an enriching experience for our visitors, both repeat and new."
For hours and to learn about upcoming programs, click here.