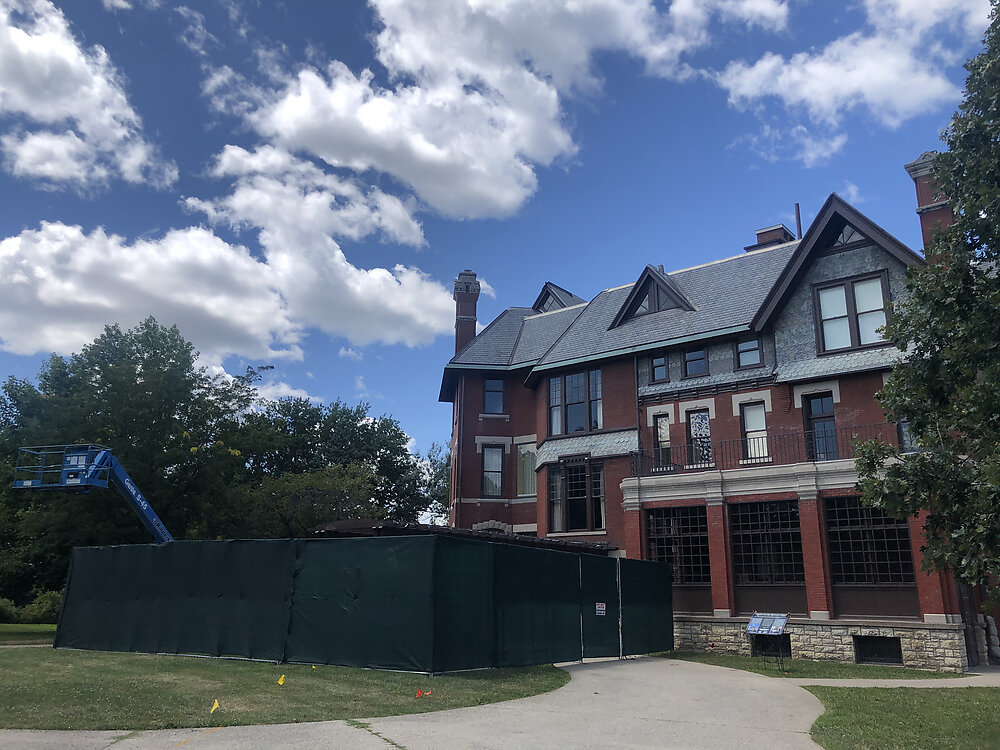 Brucemore completed Phase III of the Mansion Envelope Restoration Project in early December. Over the course of nine months, contractors stabilized the east and west façades of the 1880s mansion by addressing causes of deterioration in the glass, woodwork, doors, light fixtures, brick walls, and roof. This is part of a larger, four-year project that began in 2018 to preserve the iconic building and protect the works of art, furnishings, and documents housed inside the structure. Phase IV on the north façade will occur in 2021.
"I am proud to share that we were able to complete this phase of the project despite the challenges brought by the pandemic and the derecho in 2020," said Executive Director David Janssen. "This project reflects the community support towards accelerating preservation efforts to ensure Brucemore remains a treasure in Eastern Iowa for the next century."
In 2018, Brucemore launched Pride and Preservation, a $5 million capital campaign to support the organization's three most critical areas of need—preservation of historic assets, investment in capital infrastructure, and improvements to security and fire initiatives. When the derecho caused more than $2.5 million in damage in August and destroyed more than 70% of the mature tree canopy, campaign funds were also allocated to support derecho recovery efforts on the 26-acre estate. Derecho recovery and major preservation projects have been made possible by donations and grants from The Hall-Perrine Foundation, Iowa Economic Development Authority, and over 700 individuals and businesses.
Donations to fund campaign projects can be made online, by calling (319) 362-7375, or by sending a check to 2160 Linden Dr. SE, Cedar Rapids, IA 52403.