New Virtual Exhibit
As we prepare to celebrate the holidays a little differently this year, some of our favorite holiday traditions may be neglected. If you normally sit down to a special holiday dinner with extended family and are instead only celebrating with those in your household, maybe you are thinking it is not worth the trouble of getting out the fancy dishes and silver this year. Even if the items will stay in the cabinet until next year, you can peek into Brucemore's cupboards and learn the traditions and history behind the unique items they owned. View the new online exhibit of objects from the collection, Dining in Style – Highlights from Brucemore's Silver Collection.
Brucemore has a large collection of silver serving ware, dishware, and flatware that previously belonged to the Douglas and Hall families, who resided at Brucemore for much of the 20th century. While some of the items are on display throughout the year, most of the collection remains in storage. It might surprise you to learn that caring for silver can be very complex.
Silver is a malleable metal that can be easily dented, scratched, and dinged. When silver is taken out of storage and displayed, it is at risk of damage, despite the best intentions of museum staff. This requires additional care in handling and displaying the pieces.
The plater pictured below was well-loved and used by the Perrine family, Howard Hall's sister and brother-in-law.
Silver is resistant to corrosion, but it tarnishes when exposed to air. Silver reacts with gases containing sulfur, and those are all around us. While tarnish on silver can be removed, polishing silver also removes silver in the process. It is best for the items to remain in a space where they are rarely exposed to the air. Brucemore stores its silver in special bags which help to help minimize contact with gases. The items on display are carefully cleaned using a gentle silver polish and water once a year to remove the tarnish.
The calling card plater pictured below needs a thorough cleaning. Tarnish can appear on silver in many different colors – green, purple, or black – depending on the silver content of each piece.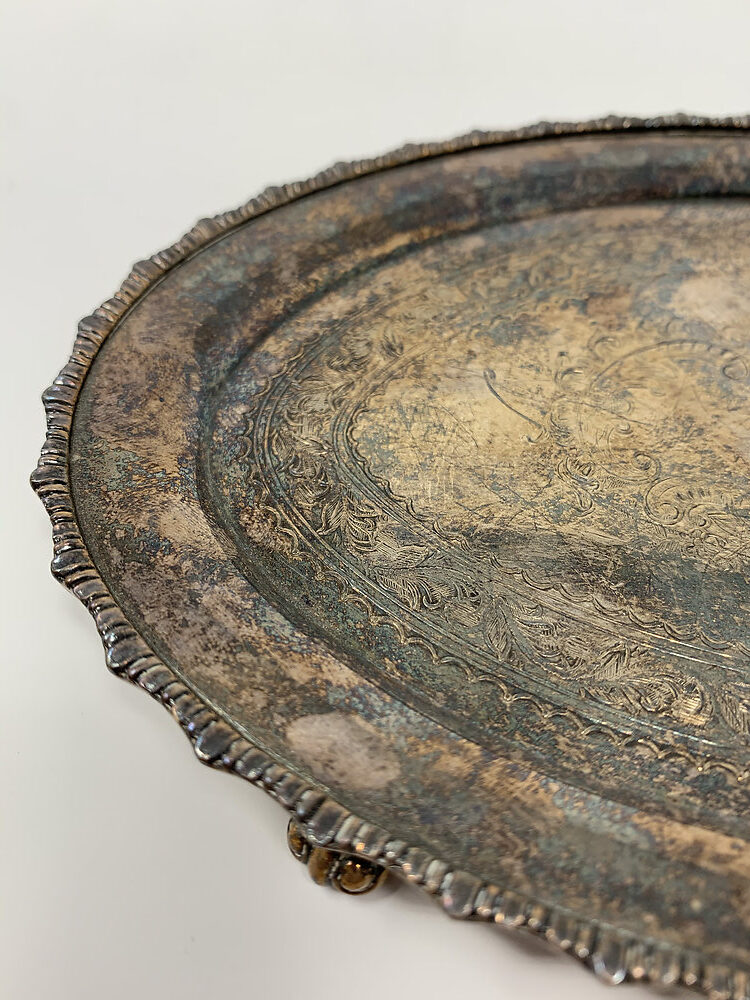 While beautiful, silver takes care to remain that way. For more tips on how to care for a silver collection, view this guide on caring for silver from the National Park Service.