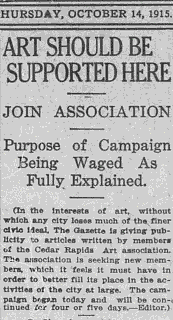 "Art Should Be Supported Here."
Boldly proclaimed from the front page of the October 14, 1915 edition of TheCedar Rapids Evening Gazette, this headline makes a statement which continues to resonate more than 100 years later. Art should be supported here.
Not written as an indictment of the people of Cedar Rapids but as encouragement, this headline urged more people to be involved in supporting art and to give a voice to those already involved. Among those involved in championing art in Cedar Rapids during the early 20th century was Irene Douglas. Irene and husband, George, were the second owners of Brucemore. As committed philanthropists, they were involved in many local charitable groups. Of special interest to Irene was the cultivation of art in its many forms.
While she was living at Brucemore, Irene filled her home with music and the arts. She hosted concerts and theater within her home and on the grounds of Brucemore. She sponsored events throughout the city and supported local artists by purchasing and commissioning works for her home. In the 1920s, Irene was involved with the Cedar Rapids Art Association, providing opportunities for artists such as Frank Dudley, Marvin Cone, and Grant Wood (all of whom have work you can view hanging on the walls at Brucemore to this day).
Irene, along with so many other early patrons of the arts, helped establish Cedar Rapids' cultural scene and provided a foundation for the modern arts organizations. At Brucemore, we are proud to continue the tradition which Irene Douglas started. Our programs celebrate theater, arts, and music, and support local organizations, artists, and performers. We are excited to share that Brucemore has created a new opportunity to support art: the Artisan Studio.
The Artisan Studio, which launched in October 2019, is an opportunity for Brucemore, through its Artisan in Residence program, to foster and cultivate local talent. A group of gifted artists who have previously performed on the estate were selected by the Artisan Studio to return and make music under the guidance of Brucemore's Artisan in Residence, Gerard Estella. Gerard and his team at GMix East bring their backgrounds and expertise to the Artisan Studio, working with artists to write, develop, produce, record, and mix original work. Those selected for this unique opportunity are showcasing their art in Brucemore's Live from the Artisan Studio series in 2020.
One hundred years before the Artisan Studio, Irene Douglas worked with other dedicated patrons of the arts to support home-grown talent, putting on concerts, performances, and exhibits. She supported artists like Marvin Cone and Grant Wood as they showed their community and the world their art. A century later the names have changed, but the goal is the same: to support art here.