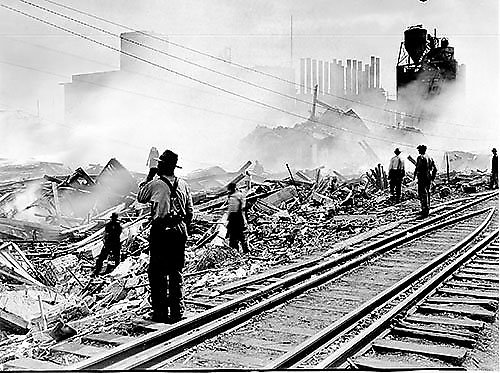 This spring Brucemore is inviting the community to help commemorate the 100th anniversary of the Douglas Starch Works explosion with a community chalk project and a series of programming.
The Douglas Starch Works explosion was one of the worst industrial accidents in Iowa history. The explosion on May 22, 1919, caused damage across the city of Cedar Rapids, leveled portions of the Douglas Starch Works plant, and resulted in the death of 44 people.
Brucemore is presenting a series of programming to generate awareness of this momentous event in Eastern Iowa history. The activities aim to create connections between our modern city, the tragic event that occurred 100 years ago, and the community's resiliency since.
The programming will include:
Community Conversation: Remembering the Douglas Starch Works Explosion
Monday, April 15 at 6:00 PM
Cedar Rapids Public Library (450 5th Ave SE, Cedar Rapids, IA 52401)
Wreath Laying Ceremony: Honoring the Memory of the Douglas Starch Works Explosion
Monday, May 20 at 3:00 PM
Linwood Cemetery (520 Wilson Ave SW, Cedar Rapids, IA 52404)
Chalking Our Story: Commemorating 100 Years Since the Douglas Starch Works Explosion
Wednesday, May 22, Throughout the Day
Multiple Locations
Learn more about this programming and the history of this event.
This series was sponsored in part by Wells Fargo and Travel Iowa.
Special thanks to the City of Cedar Rapids, Ingredion, and the businesses and individuals who are helping to tell this story.