A proclamation issued by Cedar Rapids Mayor J.F. Rall appeared in the Cedar Rapids Republican in June 1925, and made an interesting appeal. "…it is the earnest request…that as far as possible all residents of Cedar Rapids wear the typical 'ten gallon hat' during the week of July 8th-11th." Cedar Rapids was about to host its first Frontier Days, a Western themed festival complete with a rodeo. Local stores advertised ten-gallon hats for sale and reported that they were flying off the shelves.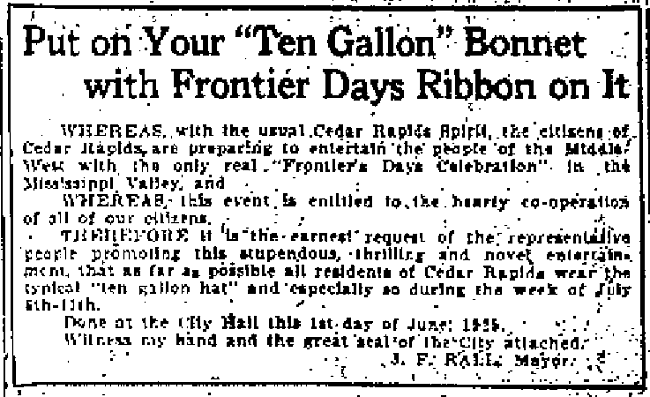 Cedar Rapids Frontier Days were billed as "the greatest ever held anywhere – not excepting Cheyenne (Wyoming)." The concept of Frontier Days had originated in Cheyenne in 1897, and had become a nationally known event that drew thousands of cowboys, cowgirls, and spectators from around the country.
The Cedar Rapids Amusement Committee decided to sponsor a similar event for the city, and even planned to outdo Cheyenne's festival. They purchased 118 acres of land outside of Cedar Rapids proper to build "Frontier Park," which later became Hawkeye Downs.
Cedar Rapids Frontier Days drew in many of the star rodeo performers from around the country to compete for the large cash prizes offered to winners. The Amusement Committee even sent letters to Will Rogers and the Secretary of the Navy requesting the presence of the U.S.S. Shenandoah, the first Navy blimp.
The Douglas family was swept up with rodeo excitement with the rest of Cedar Rapids. Ellen and Barbara hosted a rodeo party on the Fourth of July, and invited 200 guests. The Evening Gazette reported that a platform had been built on the lawn in the shape of a corral with Moon-shaped lights and colored lanterns. The festivities for the evening included an "old fashioned Western bar" where Howard served soft-drinks and a hot dog stand. Other activities included dancing, fireworks, and Western costume contests.
Overall, the Douglas family spent $2,052.27 on donations to the Cedar Rapids Amusement Committee and on their own rodeo party. Adjusted for inflation, it is roughly $28,800 in modern currency.

Image 1: Proclamation from Mayor Rall, June 1, 1925, Cedar Rapids Republican.
Image 2: Selections from Irene Douglas's check register, July, 1925.