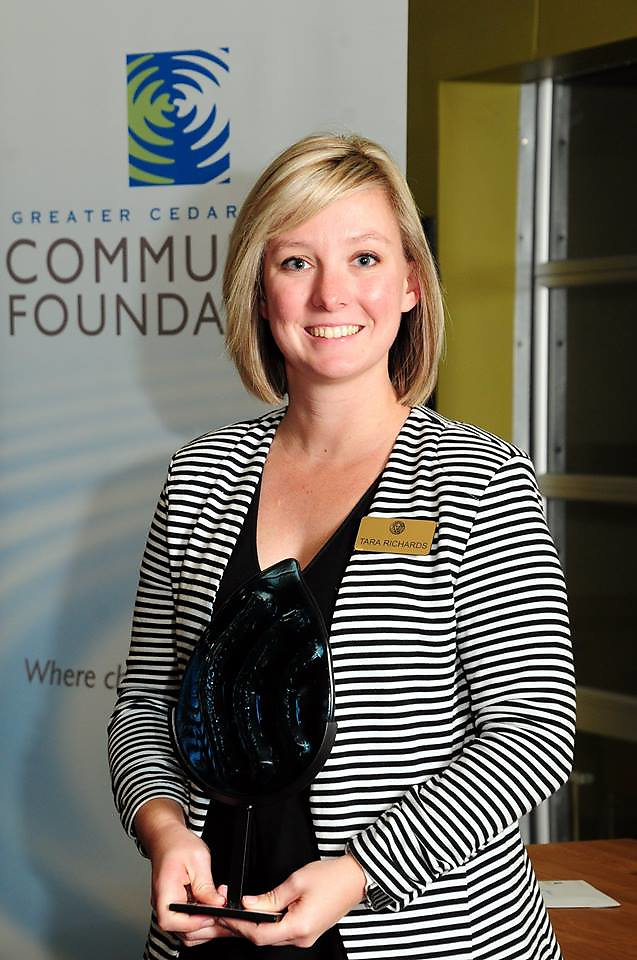 The Greater Cedar Rapids Community Foundation hosted the 5th annual Celebration of Community event on November 15, 2017 at NewBo City Market. Nearly 300 philanthropists, non-profit representatives, and community members gathered to celebrate the good that happens when philanthropy, nonprofit organizations and passionate people come together.
Brucemore's Director of Community Engagement, Tara Richards, was one of two non-profit professionals to receive an excellence award for going above and beyond in support of their organization's missions.
"The staff and Board of Trustees and staff are proud to congratulate our colleague, Tara Richards, recipient of this year's Minnie Rubek Staff Excellence Award," said Executive Director of Brucemore, David Janssen.
The Minnie Rubek Staff Excellence Award is given annually to a staff person of a Cedar Rapids non-profit organization who quietly goes above and beyond in their service to their organization's mission and the community. Recipients are chosen by a panel of their non-profit peers.
Tara graduated from Coe College in 2010 with a bachelor's degree in English. She was the Summer Marketing and Events Intern in 2008 and joined the staff in October of 2009. She has held multiple roles prior to becoming the Director of Community Engagement in 2015. She plays a critical role in leading and managing the site's expansive event and program menu the engage 45,000 visitors a year, as well as the site's marketing inititiaves.
To read more about the event and the awards and view images, click here.