Brucemore and Save CR Heritage Raise Awareness of Historic Preservation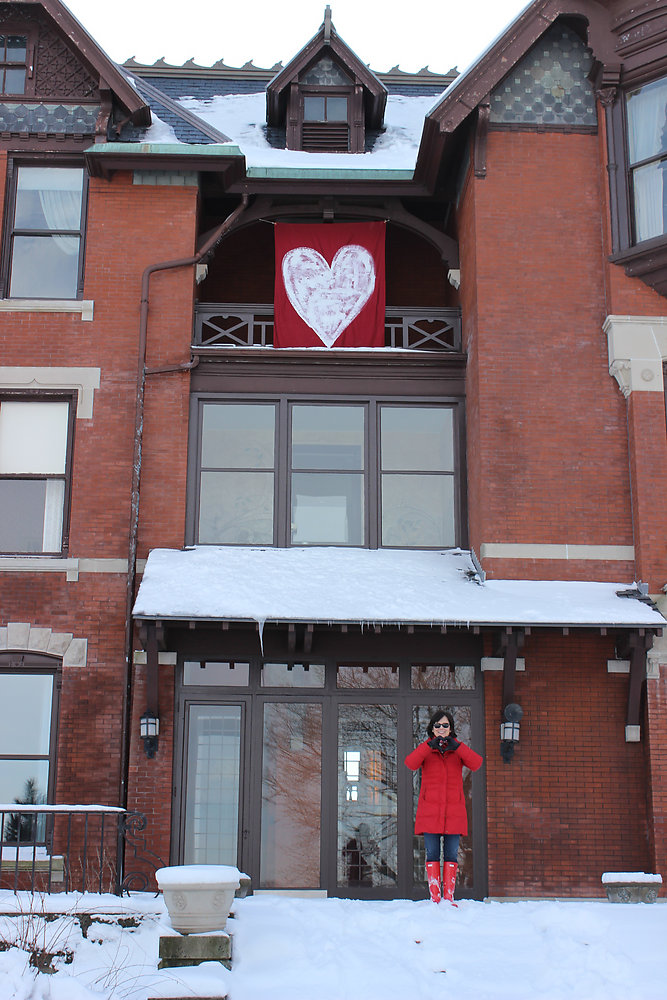 CEDAR RAPIDS – Showing your love has taken on a new meaning this Valentine's Day.
Brucemore in Cedar Rapids is part of a nationwide "heart bomb" campaign, initiated by the National Trust for Historic Preservation. Motorists and visitors can see a giant red heart affixed to the First Avenue side of the Brucemore mansion, which came through a cooperative effort with Save CR Heritage.
The non-profit group, Save CR Heritage, advocates for the preservation and reuse of historic properties, and has been heart-bombing Cedar Rapids the past few years to show the importance that even abandoned buildings can have to a community.
As one of 27 National Trust historic sites, Brucemore was invited to participate in the national campaign by sharing the love of the site for Valentine's Day. The effort aligns with Brucemore's mission.
"In my mind, Brucemore isn't just about the people who lived in the mansion," Executive Director David Janssen said. "It's about our community today, and who we are now."
That community is invited to stop by Brucemore, 2160 Linden Dr. SE, to take pictures of their smiling faces with the heart bomb, which Brucemore will share with the National Trust. Photos taken next to the mansion also could include visitors holding hand-made hearts. Messages posted on Facebook and Twitter can use the hashtags: #iheartpreservation and #thisplacematters
Short notes about why visitors love Brucemore, and why others should, too, can be composed, as well, and sent to Brucemore.
Both Save CR Heritage and the National Trust were inspired by a campaign started in Buffalo, NY, in which a group of preservationists started hanging Valentine's-style hearts to show that someone loves the vacant buildings and homes facing demolition.
Vaclav Hasek, a board member of Save CR Heritage, said rather than posting small hearts, the group designed its own large-scale heart banners using bed sheets, which could be visible from a distance. Examples can be found on buildings in the New Bohemia district, where, like Brucemore, the owners have allowed the banners to be hung.
"I think the heart bombs accomplish creating an awareness in the sense of place," Hasek said. "Neglected properties seem to convey the sense that the city or building owners don't care; they've given up, and heart bombs highlight that, contrary to appearances, somebody still cares."
In addition, the heart is such a well-known symbol, that "people on the street seem to immediately get that somebody must really 'love' that building," he said. "Who doesn't like sharing a sense of pride and joy about a thing or place, especially when we're highlighting the built heritage of our community?"
Janssen said the campaign can raise awareness about historic preservation in a variety of places beyond Brucemore, such as Czech Village, New Bohemia and downtown.
"The built environment that we maintain or neglect or abandon defines us and the choices we make," Janssen said. "It's about appreciating the value of these places, maintaining the character of our neighborhoods and the uniqueness of our city."
Read more about the national heartbomb campaign
View Save CR Heritage's 2014 Valentine's Day Heartbombs