"Chew On This" Honored at Celebration of the Arts
On November 12, Brucemore was honored with the "Reaching Out Collaboration Award" from the Iowa Cultural Corridor Alliance (ICCA). The honor, given for the "Chew on This" segment at the Garden and Art Show, recognized Brucemore's collaboration with organizations outside of ICCA.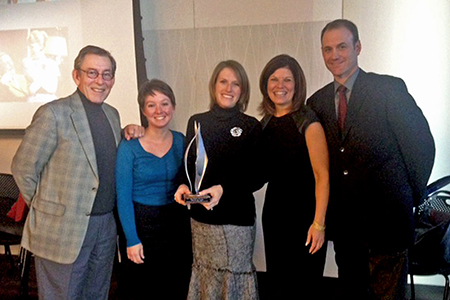 Chew on This, an exhibition and programmatic component of the annual Brucemore Garden and Art Show, brought together twelve different area organizations to highlight organic and locally grown foods. Chew on This collaborators included 4H Youth Council, Brucemore, Cedar Rapids/Linn County Solid Waste Agency, Custom Custard, East Central Iowa Beekeepers/ Noble Bee Honey, HACAP Local Food Task Force, Hy-Vee, Iowa Valley Co-Op, Iowa Valley Resource Conservation and Development, Prairiewoods, Soilmates-New Pioneer Co-Op, and Tiny But Mighty Popcorn. Over 2,000 attendees at the Garden and Art Show experienced a day filled with educational demonstrations and hands-on activities, including simple garden recipes, heirloom tomato tasting, watermelon seed spitting contest, and more. While geared towards inspiring young people about locally grown food and sustainable farming and gardening practices, adults were exposed to the many area organizations dedicated to a greener future. Chew on This provided extensive "food for thought" and married many important initiatives at one event.
This program began with HACAP and the Iowa Valley Resource Conservation and Development, Assistant Director Maura Pilcher, Head Gardener David Morton, and former Head Gardener Deb Engmark working together back in 2010, and continues today.
Other award-winners included:
TCR-Orchestra Iowa for their collaboration on Music Man
Terry Pitts, Director Emeritus at the CRMA, who was recognized with the newly re-named "Peggy Whitworth Arts and Cultural Advocacy Award"
Joshua Schamberger, president and CEO of the Iowa City/Coralville Area Convention and Visitors Bureau, who was recognized with the "Larry Eckholt Cultural Advocacy Award"