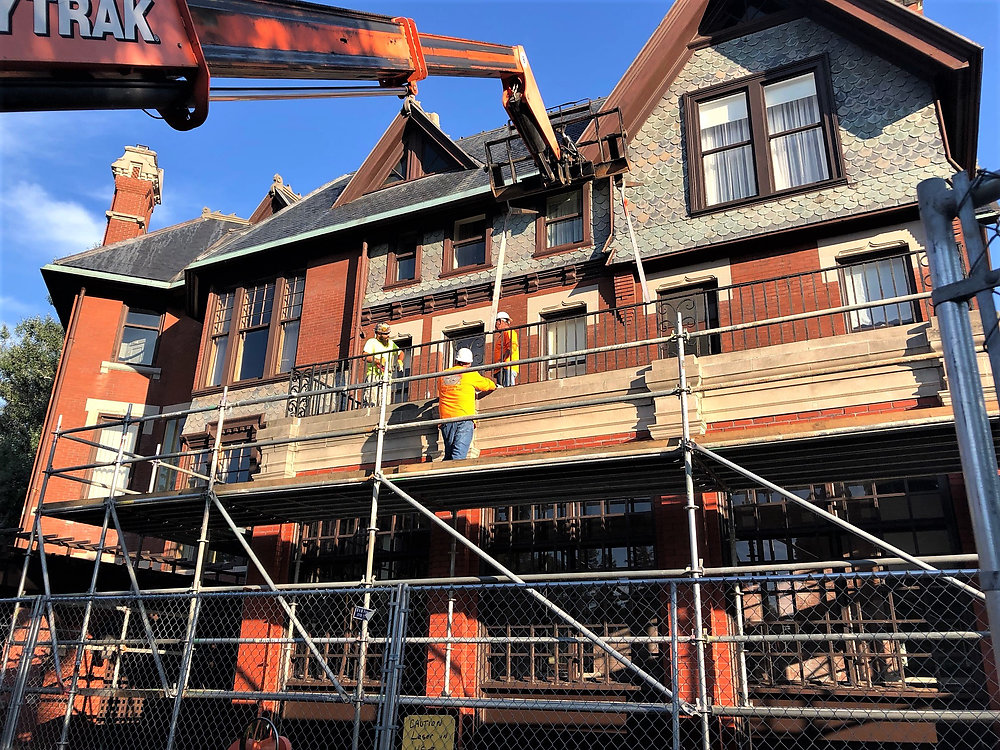 Discover preservation in progress this summer at Brucemore, one of Iowa's most iconic historic sites. Executive Director David Janssen will lead you on a special look at the on-going preservation work that helps ensure the property is around for the next 100 years. The 26-acre estate features six historic structures that create a complex puzzle of aging stone, wood, metal, slate, glass, and brick. The tour will include access to buildings not usually open to the public as well as a look at Phase II of the Mansion Envelope Restoration Project. Each tour will offer a different perspective as various parts of the project are completed throughout the summer.
About the Mansion Envelope Restoration Project
In 2018, Brucemore kicked off a three-phase Mansion Envelope Restoration Project. This $4 million project is aimed at stabilizing the structure by fixing the causes of deterioration rather than only symptoms. Ultimately, this work will protect the irreplaceable works of art, furnishings, and documents that tell the story of Brucemore. Phase I of the Mansion Envelope Restoration project to stabilize and restore the enclosed Service Porch was completed in April 2019. Phases II and III will focus on the roof, north, south, east, and west facades of the mansion, specifically restoring the roof cresting and slate, window glass and wood, exterior trim, doors, light fixtures, and exterior brick walls.
DATES:
ADMISSION
$15.00 per adult
$10.00 per student

Brucemore members

receive a $5 discount per ticket, quantity based on level – please "sign-in" using the link in the upper right corner to apply member discounts or call (319) 362-7375.
IMPORTANT INFORMATION FOR YOUR VISIT
Check-in:

The tour begins at the Visitor Center. If you selected Will Call, your tickets will be available there. The Visitor Center will be open thirty minutes before the tour. Please do not arrive late as the tour departs this building shortly after the start time.
Explore

: Visitors are encouraged to explore the estate. Stop by Brucemore's free Visitor Center to learn more, enjoy exhibits about the families, and peruse Brucemore's gift shop. The Visitor Center is open from 9:30 a.m. to 3:15 p.m. Wednesday through Saturday and 12:30 to 3:15 p.m. on Sundays. The Visitor Center will open 30 minutes prior to the tour if scheduled outside of standard hours.
Footwear

: Please wear

closed toe and closed heel shoes to avoid possible tripping injury. Please do not wear flip-flops or other loose shoes or sandals. We reserve the right to exclude you from the tour if our staff think your footwear is inappropriate for the tour.
Ticket policies:

All ticket sales are non-refundable. Tickets to Brucemore produced programs may be returned up to 24 hours prior to the program as a tax-deductible contribution or as an exchange for a different date or time of the same program, subject to availability. Other policies may vary.
Tickets Required
View our Ticket Policy
View our COVID Policy