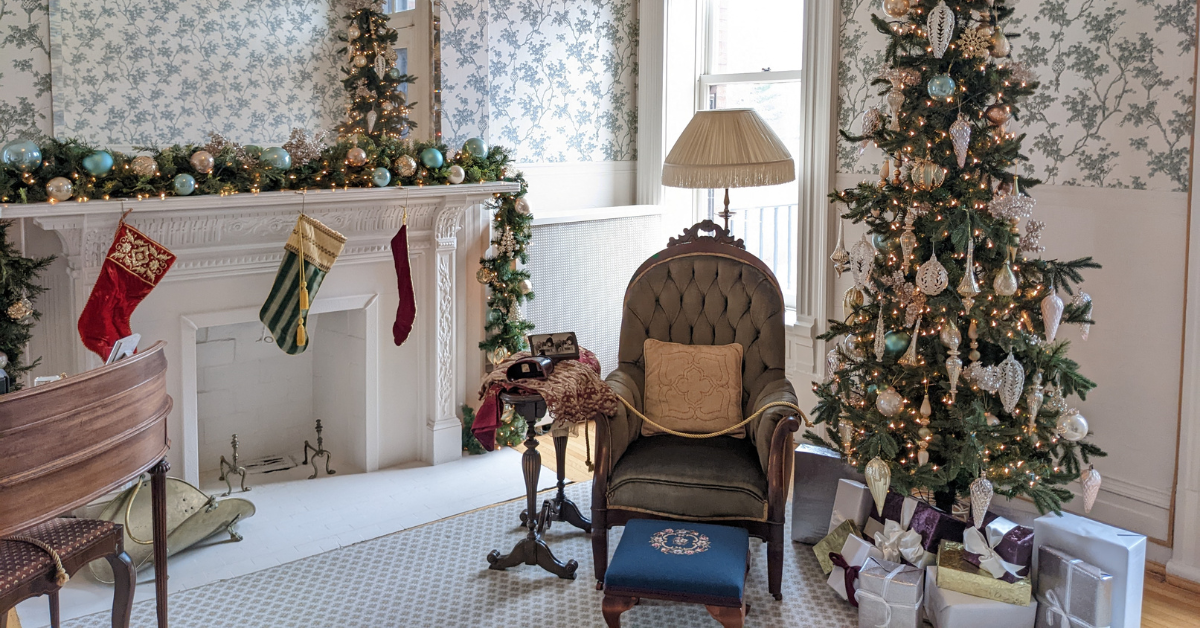 This self-guided tour of three floors of the mansion is sure to fill you with holiday cheer! Explore our award-winning holiday experience, complete with over a dozen dazzling Christmas trees, sparkling seasonal décor, and a peek into the holiday seasons of yore at Brucemore. Follow in the footsteps of the families of Brucemore as you wander through three floors of history and holiday spirit.
Holiday tours at Brucemore are a popular local tradition, and tickets sell fast! To purchase tickets, visit www.brucemore.org or call (319) 362-7375 and a staff member will assist you with your transaction. We can't wait to celebrate Christmas at Brucemore with you!
Please note that this tour does not include access to the basement. If you would like to see the Tahitian Room and Grizzly Bar, see our Holiday Nights tour.
---
Ticket Information
Tickets required to view the mansion; advance purchase recommended due to limited tickets per entry time. 
$15 for adults
$5 for students
If available, tickets may be available for purchase at the mansion the day of.
Brucemore donors – "Sign-in" prior to purchasing tickets or call (319) 362-7375 to receive your discount!
Dates/Times:
Through December 31, 2023

Thursdays- Saturdays, timed entry every 30 minutes beginning at 10:00 a.m. with the last entry time at 3:00 p.m.
Sundays, timed entry every 30 minutes beginning at 1:00 p.m. with the last entry time at 3:00 p.m.
Closed December 24, 25, 26, and 27.
---
Important information for your visit:
Tour: This is a self-guided experience of the first, second, and third floor of the mansion. An informational tour booklet and QR codes that link to stories of Brucemore's history are available to supplement your experience. Staff and volunteers will also be available to answer questions!
Arrival: Please arrive via our main entrance, 2160 Linden Drive SE., Cedar Rapids, IA 52403. There is on-site parking near the Carriage House and mansion.
Check-in: Patrons who purchased tickets in advance should arrive at the mansion at the entry time listed on their ticket. Early admittance may not be possible due to limited space. Late arrivals may be subject to a shortened visit or may be asked to wait until a later available entry time.
Bags: There will be a coat rack for this event; however, items will not be monitored and are left at your own risk. You may wish to consider leaving large bags or other items in your vehicle.
Accessibility: The historic mansion is not currently wheelchair accessible due to preservation work. There are several stairs to access the first floor, and several flights of stairs to see the other floors. Please make the best decision for the accessibility of your party with this knowledge.
Photography: Photography is allowed for personal, non-professional use. Tripods, selfie-sticks or other photography equipment will not be permitted. Photographs should not distract from others enjoyment.
Ticket Policies: All ticket sales are non-refundable. Please view our ticket policy here.
Preservation in Action: Watch for areas throughout your visit to see preservation in action! This is an important part of ensuring the site remains part of the community for future generations. If you would like to donate to support these efforts, click here.
Tickets Required
View our Ticket Policy
View our COVID Policy