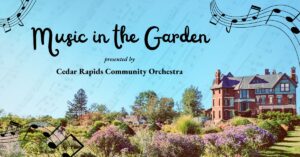 Let the Cedar Rapids Community Orchestra provide the soundtrack for your Brucemore visit!
During select Sundays this summer members of the Cedar Rapids Community Orchestra will perform in the Brucemore formal garden. Visitors are welcome to stay for the full performance or listen to the music while they take a stroll around the grounds. There is no charge to visit the garden, so these performances are free and open to all! While you're here, consider completing your visit with a ticketed guided or self-guided tour of the mansion.
About Cedar Rapids Community Orchestra
Cedar Rapids Community Orchestra (CRCO) was founded in 2013 by Martin Clancey, a retired music teacher, and Doug Elam. The initial goal to provide a place for volunteer musicians to socialize, rehearse and community concerts remains true to this day. Community activities also include collaborative efforts and outreach concerts. Our membership of about 100 musicians (approx. 70 are currently performing) represents a well-balanced mix of professional and non-professional players and working and retired people. We look forward to celebrating our tenth season beginning this Fall! A wide variety of special events and musical adventures are planned for our anniversary season. In celebration of this notable benchmark, we commissioned Dr. Jerry Owen to compose "ACCOLADES: A Tribute to a Vision" which we will perform next season as a world premiere.  Our Spring 2024 concert will be a free concert, open to the public at the Paramount Theater.