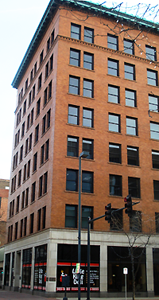 Henry Saville Josselyn (1845-1934) and Eugene Hartwell Taylor (1855-1924) met while studying at the Massachusetts Institute of Technology (MIT) and, in 1882, entered into partnership together in Cedar Rapids and Des Moines. This partnership comprised one of the first major modern architectural firms in Iowa and was commissioned for a range of projects across the state.
Soon after this partnership formed, Caroline Sinclair hired them to take over construction of her home when the original mansion architect, Maximilian Allardt, had to return to Indianapolis when his daughter fell ill in 1884.
Eugene Hartwell Taylor was born in Denmark in 1855. After his father's death in 1862, Eugene, his sister, and his mother moved to Grinnell, Iowa. He graduated from Iowa College (now Grinnell College) in 1876 with a Bachelor of Science. While a student at MIT, he found a passion for architecture and planning.
Taylor was a tireless worker for the American Institute of Architects and presented his paper "The City Beautiful," at the 1908 annual convention of the Iowa Chapter. His city planning and urban design helped encourage Cedar Rapids purchase of Mays Island in the Cedar River and the conversion of the island to hold the municipal government buildings. In 1924, Taylor was killed when an automobile struck the bicycle he was riding.
Henry Saville Josselyn was born in Dayton, Ohio, in 1849. The son of a builder-architect, Josselyn received seven years of on-site training prior to formalizing his education at MIT. Josselyn spent only six months in the program but maintained his friendship with Taylor after leaving in 1877.
Josselyn contributed to several projects in Iowa before traveling to Europe in 1879. Josselyn brought the creativity to the firm and was also active in the American Institute of Architects. After Taylor's death, Josselyn continued to practice until 1929; he died in Cedar Rapids five years later.
Among other buildings, Josselyn and Taylor were responsible for several Cedar Rapids and Iowa City landmarks, including: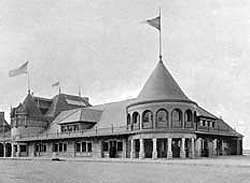 Security Building (1908 – shown above right)
St. Luke's Hospital (1902)
Mercy Hospital (1902)
Carnegie Library (1903-1905 – now part of the Cedar Rapids Museum of Art)
Grace Episcopal Church (1890)
University Medical Hospital in Iowa City (1896-1898)
They also earned the privilege of designing the Iowa Building (shown at right) at the Chicago World's Colombian Exposition of 1893, also known as the White City.