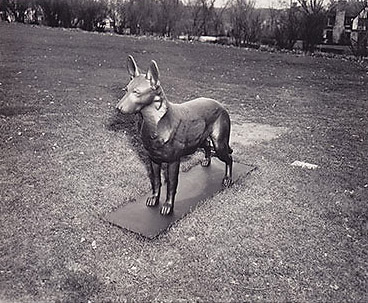 The Halls designed a memorial site for their animals by creating the Pet Cemetery on the grounds, south of the Formal Garden. In addition to the Halls' dogs and lions, staff pets are also buried there.
A sculpture of a German Shepherd, one of three identical statues commissioned by Howard Hall, stands guard at the west end of the cemetery.
A second sculpture was given to Howard's veterinarian, but it was returned to the property in 1994 and is located near the lion's den behind the Carriage House.
The third sculpture was located at the Halls' weekend cabin retreat near Palisades-Kepler State Park.