Irene Douglas contracted Ernest M. Skinner to build Opus 754 in 1929 for $13,675.13. She joined Andrew Carnegie, Louis Comfort Tiffany, and John D. Rockefeller as owners of residential organs. Brucemore's instrument is one of only 92 residential organs ever constructed by the Skinner Organ Company and one of only six that remain unaltered and in situ.
A residential player organ was the ultimate home entertainment system of the 1920s. While Irene could hire local musicians to perform for her guests, the player function of Opus 754 allowed her to enjoy music and entertain at the push of a button. Organ rolls, often recorded by preeminent musicians, took full advantage of the many voices of the organ, effortlessly performing operas, symphonies, and popular songs. Brucemore's archives contain approximately 100 rolls, including Richard Wagner's opera Ring of the Nibelung, which is depicted in the mural encircling the Great Hall.
The Skinner Organ Company of Boston, Massachusetts, was the foremost name in organ building during the early- to mid-twentieth century. E. M. Skinner established his company in 1901, building modern organs with a complex, orchestral sound. By the end of World War I, Skinner built close to 200 organs and received commissions from prestigious locations like the Cathedral of Saint John of the Divine in New York City. Skinner organs produced from 1927 to 1933 are widely regarded as the company's best work.
Today, Cedar Rapids is home to three operating Skinner organs, a claim few other cities can make. In addition to Brucemore, Skinner organs reside at Coe College and St. Mark's Lutheran Church.
At a Glance….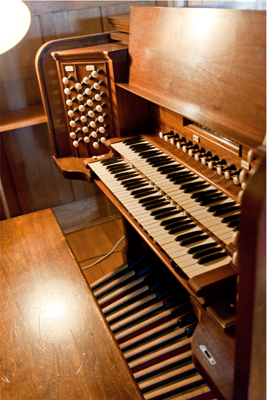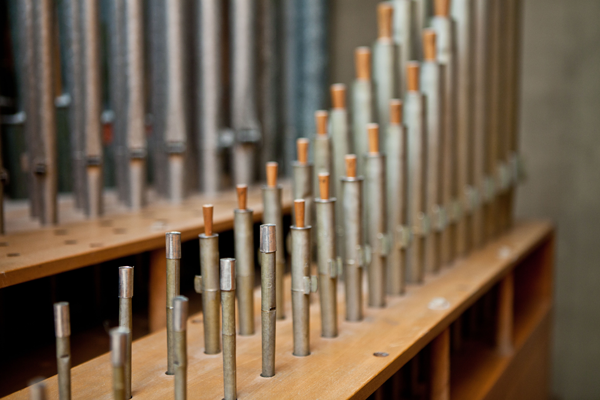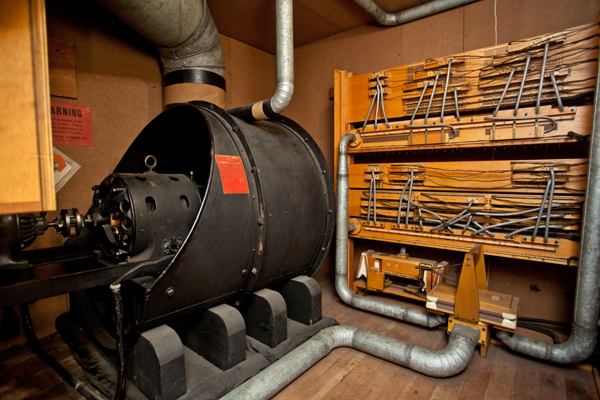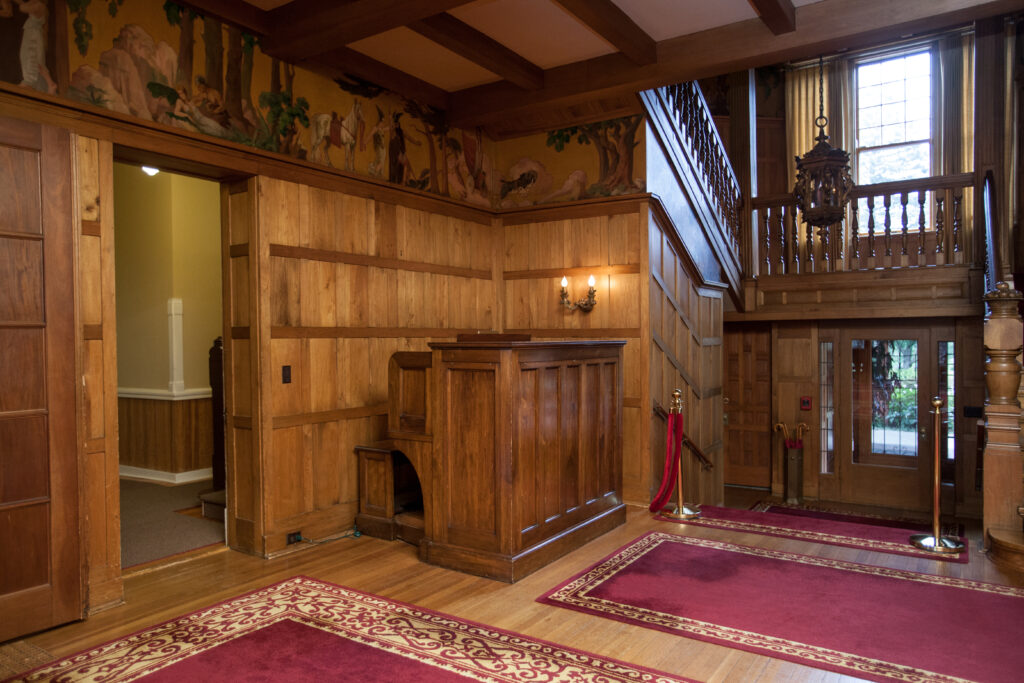 Skinner Player Pipe Organ Preservation
In 2018, Brucemore completed the restoration of the 1929 Skinner player pipe organ that kicked off in January of 2014 thanks to generous support from the following:
Hall-Perrine Foundation
Joseph G. Bradley Charitable Foundation
Myron F. and Esther S. Wilson Donor-Advised Fund
The ongoing care of Opus 754 has been a priority for Brucemore. Conservator Jeff Weiler was hired to preserve this rare and remarkable instrument that is an essential part of the site's history and fundamental to the visitors' experience.
In 2013, Weiler conducted a survey of the instrument, documenting the current condition of the organ and providing recommendations for future work. The survey revealed the organ was long overdue for a full restoration. Pipe organs should be restored every 50 to 60 years, and for Opus 754 to have survived 84 years without restoration is a testament to the craftsmanship.
Phase I: Restore the three-horsepower motor, direct current generator, blower room reservoir, player system relay, and pedal relay
Phase II: Remove and clean all 715 pipes
Phase III: Restore the organ console and player system in the Great Hall
In addition to being played by an organist, Opus 754 was built with a player function that would read punch scrolls inserted into the console. These scrolls were recorded by the preeminent organists of the day, with selections ranging from operas to the latest popular songs. Brucemore has nearly 100 scrolls in its collection, and while they are too fragile to currently use in the organ, the renovation by JL Weiler included adding a computerized player system to Opus 754 as part of Phase III.
Today, hundreds of songs can be played with the touch of a button. All of the sounds are produced using the original organ components, without any digital amplification. The player system also visualizes on a screen which keys, pedals, and stops would be used on the console to produce the notes being heard if being played by a live organist. On-site experiences utilize this component to allow visitors to hear many of the same songs the Douglases enjoyed.
Weiler, a native of Cedar Rapids and a Coe College graduate, continued his education at Northwestern University where he earned a master's degree and doctorate of music (ABD). He has been professionally engaged in organ building and restoration since 1981. In that time, he has restored organs in Switzerland, Australia, Malaysia, and the United States. Some of his recent projects can be found in the Cedar Rapids area, where he returned to his alma mater to restore Coe College's 1929 Skinner organ blowing plant and worked on St. Mark's Lutheran Church's 1928 Skinner organ, the Paramount Theatre's 1928 Wurlitzer organ, and Theatre Cedar Rapids' 1928 Wangerin/Barton organ.