Due to weather conditions, the August 13 performance of Music in the Garden is cancelled.
---
Let the Cedar Rapids Community Orchestra provide the soundtrack for your Brucemore visit!
During select Sundays this summer members of the Cedar Rapids Community Orchestra will perform in the Brucemore formal garden. Visitors are welcome to bring a seat and stay for the full performance or listen to the music while they take a stroll around the grounds. There is no charge to visit the garden, so these performances are free and open to all! While you're here, consider completing your visit with a ticketed guided or self-guided tour of the mansion.
Event Dates: June 11, July 16 and August 13 from 12:30 to 4:00 PM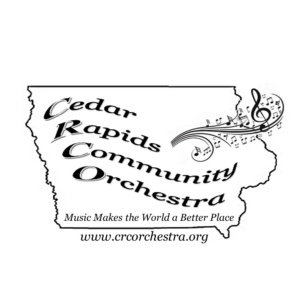 About Cedar Rapids Community Orchestra
Cedar Rapids Community Orchestra (CRCO) was founded in 2013 by Martin Clancey, a retired music teacher, and Doug Elam. The initial goal to provide a place for volunteer musicians to socialize, rehearse and community concerts remains true to this day. Community activities also include collaborative efforts and outreach concerts. Our membership of about 100 musicians (approx. 70 are currently performing) represents a well-balanced mix of professional and non-professional players and working and retired people. Volunteers handle all aspects of the group from governance, music selection, planning of social events, and concert programming. To continue our progress, we formalized the group as a 501 (c)3 tax exempt organization (2020) and retained the services of a professional Music Director rather than using member volunteers for that demanding role. As our group's musical abilities have grown since our inception we recognize a need to continue encouraging membership of those who do not feel ready for the challenges of a full orchestra setting. To serve this population we are beginning a new program this year to encourage CRCO participation of beginners and those working to recall the musical skills they have not recently used.
We look forward to celebrating our tenth season beginning this Fall! A wide variety of special events and musical adventures are planned for our anniversary season. In celebration of this notable benchmark, we commissioned Dr. Jerry Owen to compose "ACCOLADES: A Tribute to a Vision" which we will perform next season as a world premiere.  Our Spring 2024 concert will be a free concert, open to the public at the Paramount Theater.
Our mission is to provide opportunities for adult musicians. With the exception of a minimum age, familiarity with an instrument and basic music notation there are no restrictions for membership. Our repertoire goes beyond Western Classical Music further illustrating CRCO's cultural diversity. Our repertoire includes compositions by composers of varied race and gender as well as some that have been created in the last fifty years. We have even performed compositions by members. CRCO serves a broad sector of the community, performing concerts and recitals at auditoriums, small businesses, public buildings, nursing homes, and care facilities. On occasion we have audiences show up at our rehearsals – all are welcome! Our shared policy with Kirkwood Community College is no one is turned away from performances regardless of their ability to pay. CRCO benefits from our alliance with Kirkwood Community College through their open enrollment/access practices.  We are thrilled to be performing at the formal garden in Brucemore and are planning a wide range of musical repertoire to share as background for those exploring the mansion and grounds.
---
IMPORTANT INFORMATION FOR YOUR VISIT
Arrival and Parking: We ask that you arrive via our main entrance, 2160 Linden Dr. SE., Cedar Rapids, IA 52403. Follow signs towards the mansion, where there is on-site parking a short walk from the mansion entrance.
Seating: Visitors are welcome to bring lawn chairs or blankets.
Weather: This performance will take place in an area with limited shade. Please plan to bring sun protection such as hats and sunscreen. In the event of inclement weather, the program may be cancelled or moved indoors. Announcements about weather cancellations will be made on this page and Brucemore social media.
Accessibility: There are no paved paths inside the formal garden. Please make the best decision for the accessibility of your party with this knowledge.
Photography: Photography is allowed for personal, non-professional use. Tripods, selfie-sticks, or other photography equipment is not permitted. Photographs should not distract from other's enjoyment.
Pets: Dogs are allowed on the Brucemore grounds. Dogs must be kept on a leash at all times and visitors should bring bags to clean up after their pets.
Preservation in Action: Watch for areas throughout your visit to see preservation in action! This is an important part of ensuring the site remains part of the community for future generations. If you would like to donate to support these efforts, click here.
---
A SPECIAL THANKS TO BRUCEMORE'S SUMMER SEASON SPONSORS WHO MAKE IT POSSIBLE FOR US TO SHARE THE ESTATE WITH OUR CULTURAL PARTNERS:  
$20,000+ (Presenting)
Program Support Grant Fund of the Greater Cedar Rapids Community Foundation
Cedar Grove Signature Fund of the Greater Cedar Rapids Community Foundation
$7,500 (Leader)
Bankers Trust
Cedar Rapids Bank & Trust
$5,000 (Advocate)
UFG Insurance
US Bank
$2,500 (Supporter)
Simmons Perrine Moyer Bergman PLC
$1,000 (Friend)
ImOn Communications
Van Meter