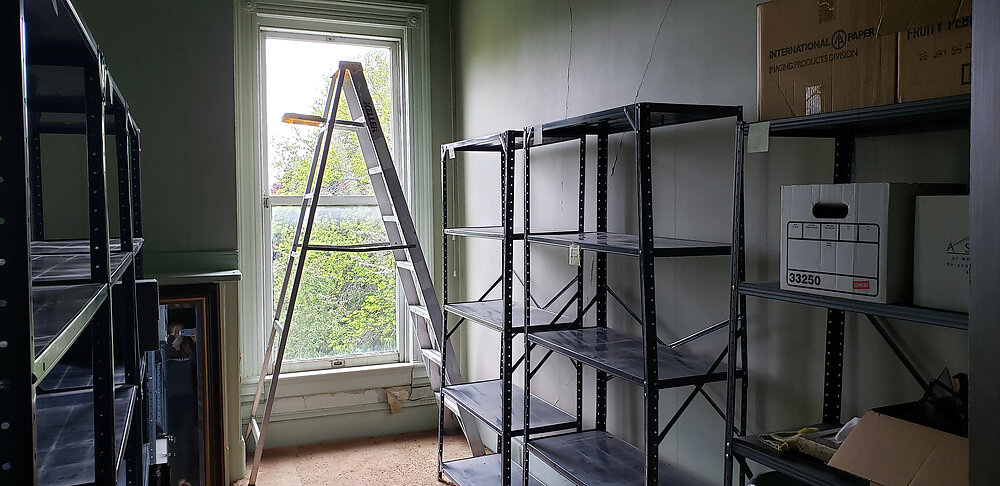 One year ago Brucemore launched the public phase of its Pride & Preservation Campaign. To date, the campaign has raised over $3.7 million dollars towards designated campaign projects.
The largest project in scope is the Mansion Envelope Restoration Project (MERP). Now in its third phase, this project focuses on preserving the windows and doors, brick, roof cresting, and roof slate on the 19th century mansion that sits at the center of the estate.
Construction crews have been following social distancing guidelines since starting work earlier this spring. As the project moves from space to space, the interior rooms must be prepared for construction in order to reduce risk to interior objects, wall-coverings, and other fixtures. With each room, staff develop a detailed plan alongside the contractors. Staff identify objects that need temporarily moved and document the steps taken to ensure every piece of the collection is protected and can be put back in place once work is complete.
The latest room to be cleared holds many of Brucemore's most important objects—the archives room. Brucemore's archives contain diaries, photographs, and letters, which help provide primary resources and insight into the lives of the family and staff. Melissa Porter, Musuem Program Manager, is helping lead the archives move. "The historic objects at Brucemore play an important role in helping tell the stories of the people who once lived and worked here. Just like the building, our goal is to preserve these objects so future generations can learn from and enjoy the rich history."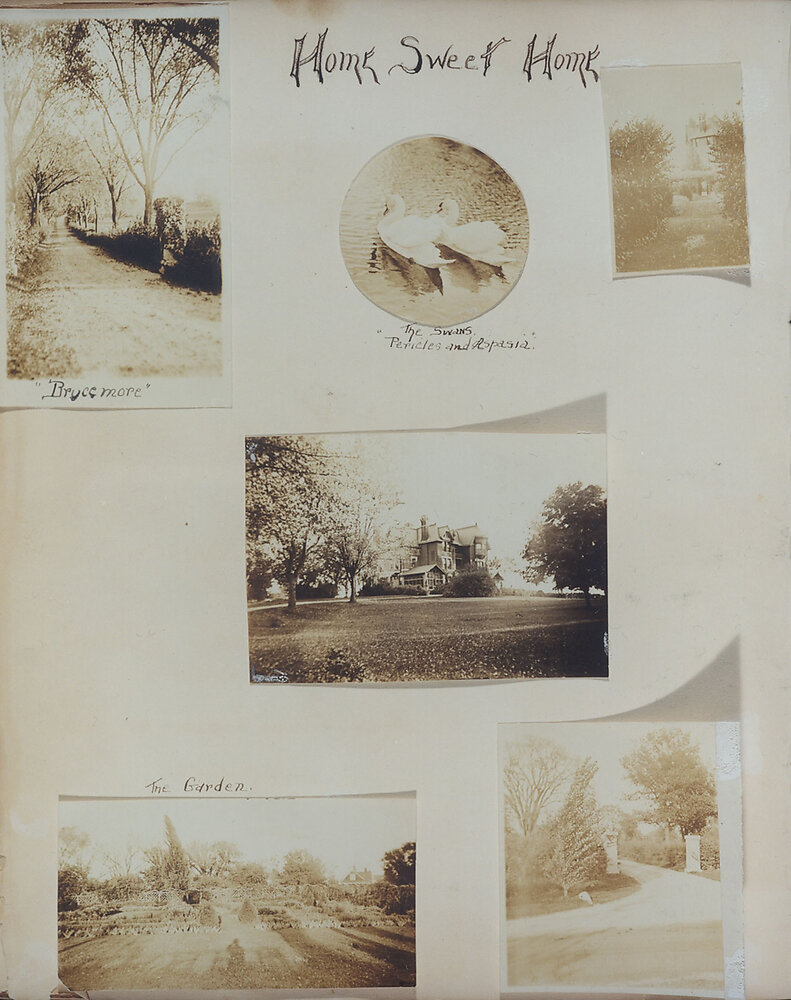 A page from one of the Douglas family scrapbooks in Brucemore's archives
To prepare the archives room, boxes of scrapbooks and family photos were hauled away from what would soon become a bustling construction space and stored on the quiet shelves of another room. Each box was moved with care as staff took steps to prevent damage to the important histoic material within. Moving these objects required multiple days of dedicated staff time. Now, likely for the first time in 30 years, the archives room has been cleared and is ready for its windows to be preserved.
The Mansion Envelope Restoration Project entered the archives room on June 1. The windows in this room will be assessed  and restored using an individualized window treatment. The windows will be made operational and sealed to prevent rot and future damage due to weather and pests. When the work is complete, a film will be installed to filter UV rays and provide extra protection of the objects inside. Preserving the windows helps ensure Brucemore's collections can be shared for generations to come.
To help Brucemore continue this and other campaign projects, donate to Pride & Preservation online or view other ways to give.
If you're interested in learning more about the collection, visit this page to explore the highlights at Brucemore!