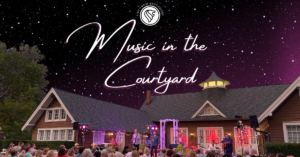 Take a night off by taking a night out.
Join Daren Barker, Lacie De Souza, and Layton White for a musical evening all about staying positive in the modern age and reveling in all the good things. A truly eclectic evening that brings together three very different performers focused on a lot of fun and thoughtful music. They will be joined by multi-instrumentalists EJ Swavv and Gerard Estella.
Presented in the unique space that is the Courtyard on the grounds of Brucemore, this show dares to offer an evening of hope and other foolish things.
Rooted in a 20 year tradition, Brucemore's Music in the Courtyard series returns in 2023 with three special shows! Relax outdoors amongst good company and enjoy listening to music under the stars. Music in the Courtyard is part of the Artisan Studio live performance series, aiming to support Iowa-based singers, songwriters, and technicians in their personal and professional pursuits.
Performance Dates:
*This performance is sold out.