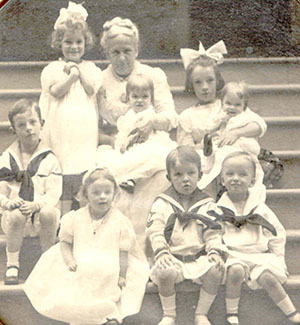 In the years following T.M.'s death, Caroline purchased a second home in 1887 in Philadelphia. The family spent the school year there to provide her children access to an East Coast education.
Although she only lived in Cedar Rapids part of the year, Caroline remained dedicated to the city by continuing the strong philanthropic work begun by her husband. In his memory, Caroline and the family built the Sinclair Memorial Church and a chapel on Coe College's campus. She provided generous financial support to numerous causes, including the YMCA, First Presbyterian Church, and foreign missions.
In 1905, the Sinclair children were grown and Caroline decided to move closer to town. She tried to find a charitable use for the house; however, plans to sell the mansion for use as an orphanage fell through.
In 1906, Caroline traded homes with George and Irene Douglas, the second family of Brucemore, and moved into their home on Second Avenue. She lived there until her death in 1917.