Brucemore has always been home to a range of animals. Originally built as a barn, the Carriage House was home to several horses, a cow, and a Shetland pony named Neddie who pulled a cart for the Douglas girls before it was used to house vehicles.
Dogs also had a prominent role in the Douglas and Hall homes. While the Douglas family generally had a pet dog, the Halls' German Shepherds are the most memorable examples. Howard admired loyalty and bravery in people – traits he also sought in his dogs. Brucemore was usually inhabited by at least two German Shepherds. Their residence on the estate is memorialized in the Pet Cemetery and the dog statues on the grounds.
Employees at Howard's company fondly remember him arriving at work in his "dog car" and the presence of the dogs sleeping under his desk during the day.
Leo the Lion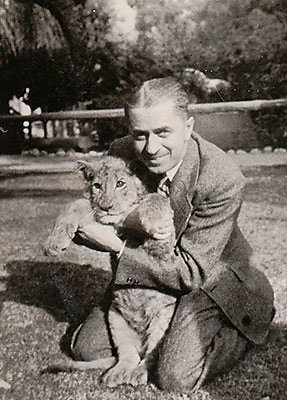 Perhaps the most famous Brucemore resident was Howard and Margaret Hall's pet lion, Leo.
Howard's business took him to California where he developed numerous contacts in Hollywood. At some point, Howard made the acquaintance of Billy Richards, the vice-president of World Jungle Compound, a business promoted as the "Home of the Motion-Picture Animal Actors" and which handled "Jackie" the famous MGM lion.
Howard and Margaret owned three lions in succession, all named Leo. The first Leo did not live long, although the reason for his death has not been determined. He was related to Jackie, the MGM lion.
The second Leo joined the Halls in 1937 and lived for 13 years until 1951. This is the lion that appears in many family photos and home movies and is the only one buried in the Pet Cemetery.
The third Leo lived at Brucemore during a few months in 1951. While no lions lived on the estate after 1953, Howard helped acquire a lion for the Bever Park Zoo in the 1960s.
Animal stories from the archives
Stories of the Halls' exotic pets still fascinate people a generation after their deaths. Letters, like the ones following, provide documentation for these stories.
From Howard to Margaret, dated Friday p.m. September 3, 1937:
George drove me out to the zoo today and I met Mr. Richards who I bought our first cub from- he was extremely nice – they have a very interesting place. Mr. Richards introduced me to the trainer Melvin Koontz who gave me the thrill of my life – first he let Leo's brother out, now 15 months and nearly full grown big as a house, he played like a kitten and climbed all over me and licked my face. put his paws on my shoulders – it made me sick to think what Leo might have been. – he is a sweetheart. and then he took me in the cage alone with "Jackie" the famous movie lion now 10 years old – 450 lbs. just huge – Melvin raised him from a cub – he had him stand on his back legs and put his paws on my shoulder – the first time he pushed me over he was so heavy. The next time I held him – the greatest thrill I ever had – then I got on his back and rode him. Made him carry my bag Etc. – Melvin then left with him in a cage for a movie studio where he had a small part in Lily Pons picture with Edward Everett Horton and Jack Okie. I never hope to have such a big moment again…. Will be glad to get home and see you and the zoo.

Howard Hall
From Howard to Margaret, dated Thursday p.m. (probably 1937):
Little Leo (the lion) arrived this morning and we all had a good laugh here at the factory. He had been penned up in a little cage and was quite a smelly mess but I set him in a pail of water and gave him a quick bath and then took him down and gave him a real bath at Eastman's place and now he is very clean and his fur is like velvet. He is about the size of Bodo (a dog) and has the cutest head and feet of anything you have ever seen. Blance is just crazy about him and can't wait to have you see him. When I had him on my lap at home Max ( the Halls' German Shepard) came up from the basement and I introduced them and Leo put his ears back and showed his teeth and Max's hair raised up a little and then I asked Max to come over and kiss him and everything is all right, and they both seemd [sic] to understand everything perfectly and I know we will have lots of fun watching them together.

Howard Hall
From Howard to Margaret, dated Monday (ca. 1937):
Leo is the funniest and cutest thing I have ever seen — he sleeps in the front room in the basement — Blance gives him a little milk in the morning and puts him out on the front porch. — Then I let him out with Max (a German Shepard) at noon and they have a big time in the yard — he chases Max and is a scream — took them both over to Mother last night and they spent the evening on the front porch. Everyone are [sic] crazy about him. — Pepper (the Halls' pet monkey) is fine too. I let him out in our room a lot.

Howard Hall