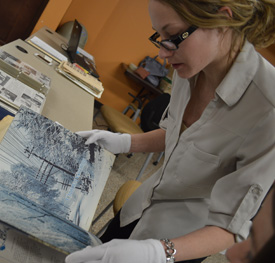 The Farmstead Foods Collection is temporarily unavailable while we transfer to a new online database system. If you have research needs, contact us directly. We apologize for this inconvenience.
Cedar Rapids lost many historic structures in the aftermath of the flood of 2008, including the T.M. Sinclair & Co. Packing House (also known as Farmstead Foods and Wilson & Co.). Grants from FEMA helped Brucemore, the City of Cedar Rapids, and the Cedar Rapids Historic Preservation Commission fund a digitization project to make the archives accessible to the public.
The history of T.M. Sinclair & Co. Packing House was instrumental in the development of not only Brucemore, but the Cedar Rapids community. Brucemore's original owner, Caroline Sinclair, moved to Cedar Rapids, Iowa, with her husband, T.M., in 1871. The packing house operated for over a century, becoming the fourth largest meatpacking plant in the world by 1878 and the largest employer in Cedar Rapids at one time. T.M. died in an accident at the plant in 1881, leaving his wife, Caroline Soutter Sinclair, a widow with six children. Caroline broke ground on what is now Brucemore in 1884.
The plant operated under various names for over a century, including Wilson & Co. and Farmstead Foods. When the plant closed in 1990, a collection of about 600 archival documents and photographs was donated to Brucemore.. In 2006, the former T.M. Sinclair & Co. site was determined eligible for the National Register of Historic Places because of its intact industrial architecture and its role in food production. After severe flooding in 2008 and subsequent fires, eight structures on the property were demolished using federal funds. The digitization project is an effort to preserve this unique heritage.
The City of Cedar Rapids applied for funding from FEMA under the consultation of the State Historical Society of Iowa/State Historic Preservation Office. The City hired a consultant, Summit Envirosolutions and de maximis Data Management Solutions, with the consultation and oversight of Brucemore, to develop the scope of work and specifications to establish a process to convert the collection to digital format and provide contextual information. They were also selected to hold an outreach event to identify additional resources to be included in the collection; to process the collection documents; and to create the web-based interface through which online access will be made available to the public.