In 1897, George Bruce and Irene Hazeltine Douglas had a home built at 800 Second Avenue SE as part of the mansion row that once existed near downtown Cedar Rapids. The Georgian Revival style mansion was home for the family for nine years. In 1906, the Douglas family arranged to trade homes with Caroline Sinclair, paying her an additional $28,500 for the house, a barn, and 10 acres of land. The Douglases moved onto the property which they would call Brucemore.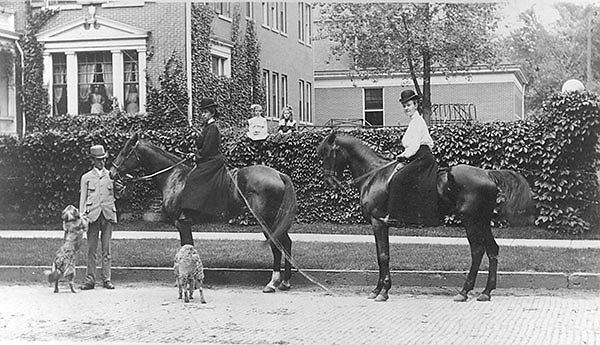 Caroline Sinclair moved into the homes on Second Avenue where she lived with her family until her death in 1917. Six years later, her son, Robert sold the mansion to John B. Turner, who moved the Turner Mortuary from the Mansfield Mansion located at 700 Third Avenue SE. The Turners were responsible for expanding the building and involved local artist, Grant Wood in the process. Grant Wood resided in the carriage house of the Turner Mortuary, which he referred to as "5 Turner Alley," from 1924 to 1935.
The Linge family continued the mansion's use as a mortuary by expanding Cedar Memorial to this location in 1978. The building underwent a Victorian-inspired renovation in 1982. For decades, this home has provided comfort to the community during difficult times. Although it had ceased operating as a funeral home in 2004, it provided a haven for Theatre Cedar Rapids and Orchestra Iowa after the flood of 2008.
The History Center purchased the building and completed renovations prior to relocating there in 2018.