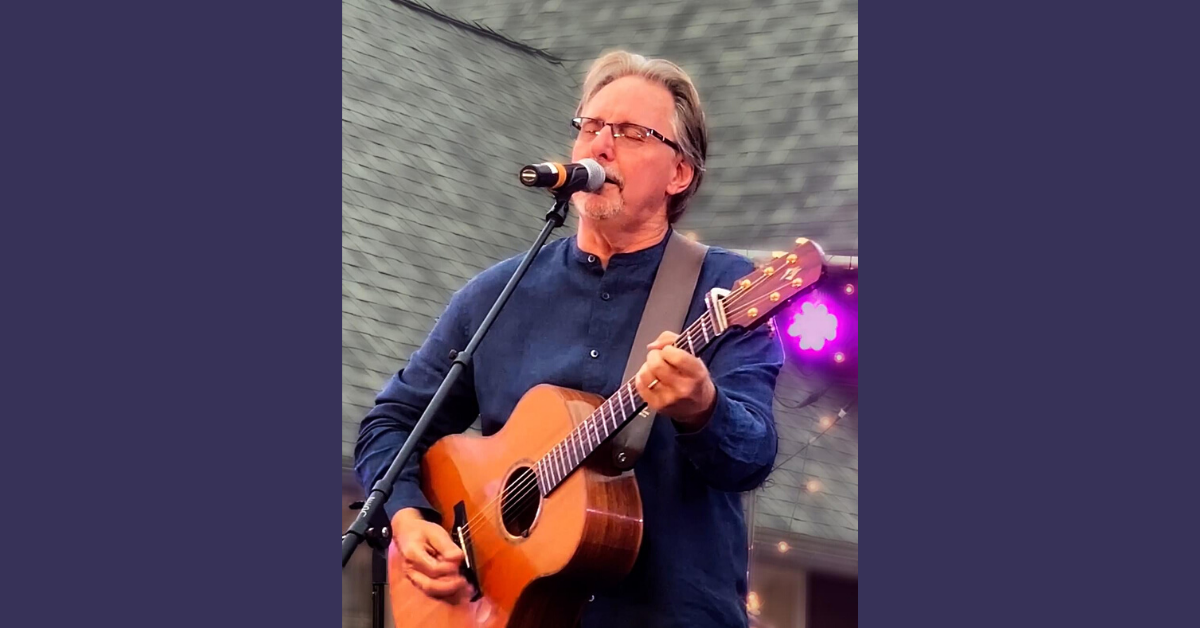 Take a peek behind the curtain and witness music in the making at Brucemore's Live from the Artisan Studio series. Enjoy acoustic performances from up and coming artists and hear about their work at Brucemore's exclusive Artisan Studio. Bring your own snacks and drinks for a fun and relaxed evening of music.
About the Talent – Scott DL
Scott was born and raised in the American Midwest but the music that caught his ear was from Britain. A lifetime in music has given him a chance to tour the United States and release six CDs of his own music. In 2009, Scott was living in Florida working with Michael Jackson's longtime producer/engineer, Bruce Swedian. Bruce recorded and mixed three songs for one of Scott's albums. In 2018, Scott and his wife, Lynne, relocated to Britain and continued to record and release music. Some advice Scott would give to his younger self is preparation and attention to your craft is much better than waiting for a break to happen.
Performances:
Tuesday, June at 7:00 p.m.
Location:
On the lawn of the backyard of the Artisan Studio
Admission: 
$15 per adult
$10 per youth
Brucemore donors receive a discount by "signing in" using the link in the upper right corner of the purchase tickets page.
---
IMPORTANT INFORMATION FOR YOUR VISIT
Safety: Masks are optional. Anyone who wishes to wear a mask is encouraged to do so. View our COVID policy here.
Seating: Lawn space is on a first-come basis. Patrons are responsible for bringing their own blanket or chair.
Food and Beverages: You are welcome to bring your own picnics and beverages (beer and wine allowed) to enjoy in the performance venue. Concessions will not be available for sale at this event.
Parking: The only gate that will open to vehicles for on-site parking is at 2160 Linden Drive SE. Signage will direct you to open spaces near the Visitor Center.
Pets: Pets are not allowed, with the exception of service animals.
Weather: The event occurs fully outdoors and may be held in light rain. 

If the event needs to be delayed or rescheduled due to weather, a decision will be made by 5:00 p.m. and ticket holders will be notified by phone. There will be no refunds, only exchanges to another date if possible.
---
A SPECIAL THANKS TO BRUCEMORE'S 2022 SUMMER SEASON SPONSORS:  
$20,000+ (Presenting)
Cedar Grove Signature Fund of the Greater Cedar Rapids Community Foundation
Greater Cedar Rapids Community Foundation Program Fund Grant
$7,500 (Leader)
Cedar Rapids Bank & Trust
Collins Aerospace
$5,000 (Advocate)
Bankers Trust
UFG Insurance
US Bank
$2,500 (Supporter)
GreenState Credit Union
ImOn Communications
Simmons Perrine Moyer Bergman PLC
Tickets Required
View our Ticket Policy
View our COVID Policy