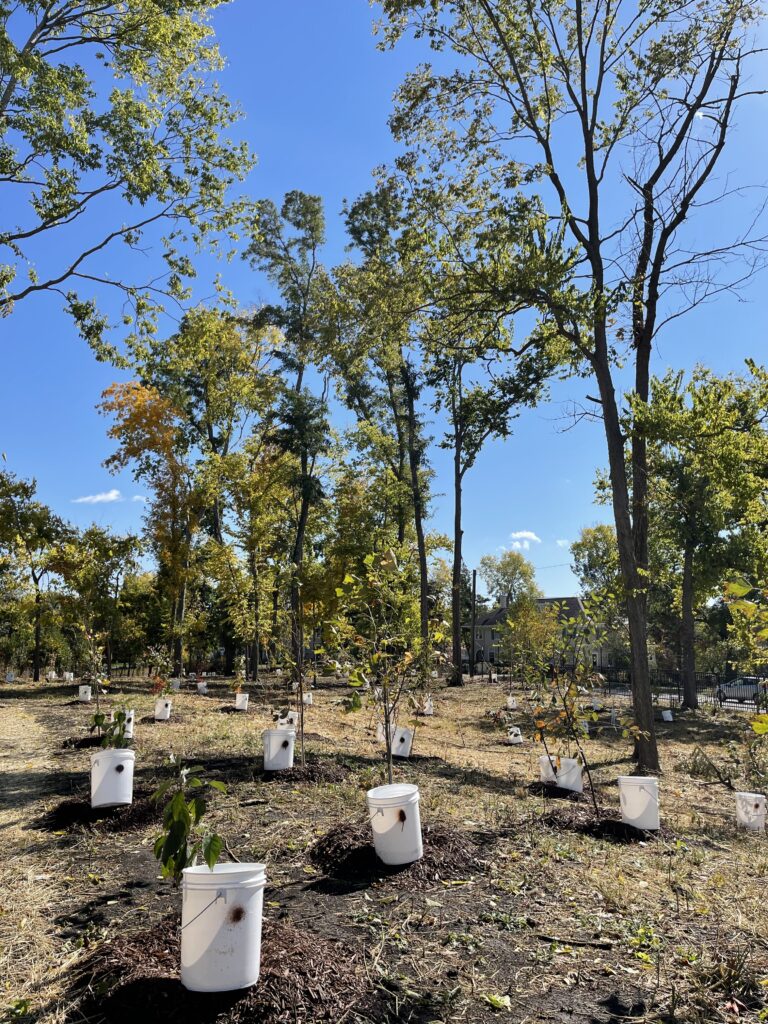 Brucemore planted 400 trees and understory shrubs in the three-acre wooded area of the property earlier this month. This completes phase I of a multi-year effort to restore the nationally significant 26-acre landscape after the 2020 derecho windstorm, which caused more than $3 million of damage and the loss of 70% of the tree canopy. Phase I work was funded by donations to Brucemore's Preservation Fund and a significant gift of plant material through the Planting Forward initiative by the Monarch Research Project.
"Experts believe the devastation was among the worst suffered by a cultural landscape in the United States in the last century," said Brucemore CEO David Janssen. "We have a tremendous amount of work ahead to restore the remainder of the landscape over the next few years, however, seeing the evidence of hundreds of new trees in the ground has been very gratifying."
The work behind-the-scenes kicked off in May of 2021 and included research into the organization's archival materials such as diaries and letters, consultation with experts in various fields on best practices, and a review of modern maintenance needs. The process aims to ensure the authenticity of the site, which provides a rare example of a 20th century country estate and a landscape design by Ossian Cole Simonds, a leading landscape architect of that time whose credits include Graceland Cemetery and Lincoln Park in Chicago, Ill.
The design process for Phase II is currently in progress with the possibility of work beginning as early as next spring, pending raising necessary funding.
Donations to support Brucemore's landscape restoration efforts can be made to the Preservation Fund, as well as by calling (319) 362-7375 or by sending a check to 2160 Linden Dr. SE, Cedar Rapids, IA 52403.