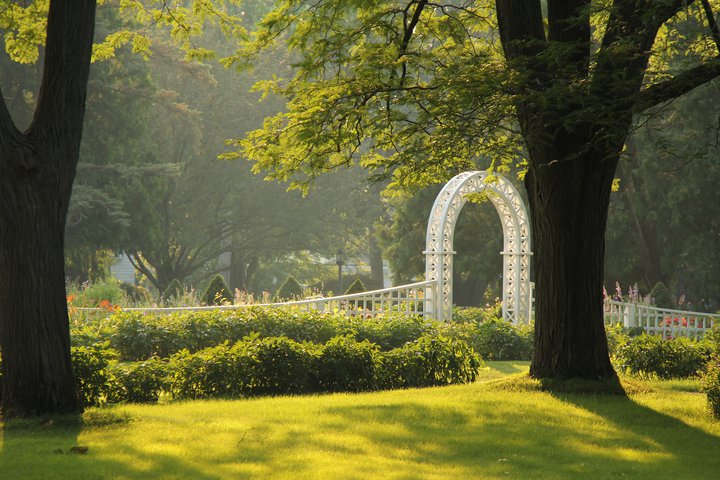 The 26-acre landscape highlights a variety of experiences to enjoy throughout the year! Free and open to the public seven days a week for a majority of the year, visiting the grounds offers the perfect way to immerse yourself in a historic country estate in the heart of Cedar Rapids. Stroll through the gardens, picnic on the lawn, birdwatch on a woodland path near the pond, examine the architecture of the mansion and servants' village, discover the multi-stage geocache, or take in the history of the site with interpretative panels scattered across the grounds. Check out the new History Ungated QR code tour by scanning the codes on signs throughout the estate! Don't forget to take a selfie (or two) and tag us on social media!
Hours through December 31, 2023: 
Monday – Friday, 8:00 am – 4:30 pm
Saturday, 9:30 am – 4:30 pm
Sunday, 12:30 – 4:30 pm
*Hours are subject to change seasonally or for special events, holidays, and other occasions. 
Guidelines for your visit
We love when furry friends come to visit Brucemore! Please help us keep the site clean and welcoming to everyone by keeping your animal on lead at all times and taking any waste with you.
We do not have any garbage cans on the grounds as part of our approach to remove distractions. Please carry out anything you bring onto the site.
Parking for vehicles is available on pavement near the Visitor Center or mansion for standaard visits.
Public restrooms are available in a building next to the Visitor Center during hours with vehicle access seasonally.
Watch the work in progress on the estate throughout the year to help preserve the buildings and landscape for future generations. You can help by donating here.
Free Activity
View our COVID Policy