Zachary Slama, College of the Ozarks
Event and Marketing Intern, Summer 2022
During my summer at Brucemore, I was able to gain hands-on experience in the professional world, while being surrounded by history and culture here in Cedar Rapids. My internship allowed me to work hand in hand with experts of all types, whether it was marketing, museum curation, event planning, volunteer organization, or office management. My time allowed me to see the full vision of what Brucemore is and how its ongoing efforts impact the community. Brucemore was also able to connect me to other professionals and interns in Cedar Rapids where I gained knowledge and experience. One of the largest aspects of my summer was spent staffing events. From children's theatre, musicals, concerts, and even an opera, Brucemore's cultural impact in the Cedar Rapids area can be seen on the smiling faces of every guest that came through our doors this summer. During this time, I learned to take hold of whatever situation came my way, no matter how small or large the problem may be. Being able to assist in someone else's enjoyment of the Brucemore site was a highlight for me throughout my time. I was able to interact with people from across the city, state, country, and even the world. The unique interactions I was able to have with so many were amazing.
           One of the lessons I learned during my time as the Marketing and Events Intern is that communication and collaboration lead to success. As constantly exemplified by the staff at Brucemore, something as simple as a text or quick conversation can lead to success and efficiency in all aspects of work.  The level of professionalism and quality Brucemore creates for both guests and staff serve as a great model for me as to how a business needs to operate to be successful. The constant desire to create the best possible can be seen through every staff member in their respective field and when staff comes together, good things happen, and stuff gets done. Practically, I was able to learn about sales, marketing, and event planning and preparation through the plethora of experiences I had. Every week brought a new opportunity to learn and develop skills necessary in the modern world. I learned to take responsibility for my work and take pride in each task I was given. At Brucemore there is always something new to learn and grow through. The constant investment of each person here provides an excellent learning experience for anyone.
---
Hello Everyone!
My name is Zachary Slama and I am the 2022 Summer Event and Marketing Intern here at Brucemore! This summer is full of wonderful events and things to do, so as an intern I am excited to assist in making each guest's experience special. To understand my passion for this position, I want to introduce you all to me.
I was raised here in Cedar Rapids. Growing up here exposed me to all sorts of amazing art, music, and events offered throughout the city. I attended Isaac Newton Christian Academy all the way through high school and was a part of their first high school graduating class in 2020. In the fall of 2020, I went on to college in southern Missouri at College of the Ozarks. I am studying marketing and will graduate in May of 2023! College of the Ozarks offers me the unique opportunity to receive my degree debt free through the College's work program. I work in the electronics department of the school, making me responsible for everything from sound systems to fire alarms. Through this work I have been able to learn heavily about event planning and preparation from the perspective of the soundperson. I have also been given the chance to run the sound for numerous college events, including concerts, convocations, and graduations with attendance over 4000 people! Through this internship I get to see another side of the event world and receive hands-on experience in one of the most beautiful places in the state of Iowa.
In my free time, I partake in many hobbies and interests. I enjoy spending time outdoors, whether it be biking, hiking, or just napping in a hammock. I also enjoy spending time with my friends and family playing or watching any sort of game or sport. I also love technology and frequently spend time building or fixing all sorts of electronic equipment. Finally, I am an active member of Church of the King here in Cedar Rapids and act as the AV Systems Supervisor.
I am looking forward to working with and serving my community throughout this summer here at Brucemore!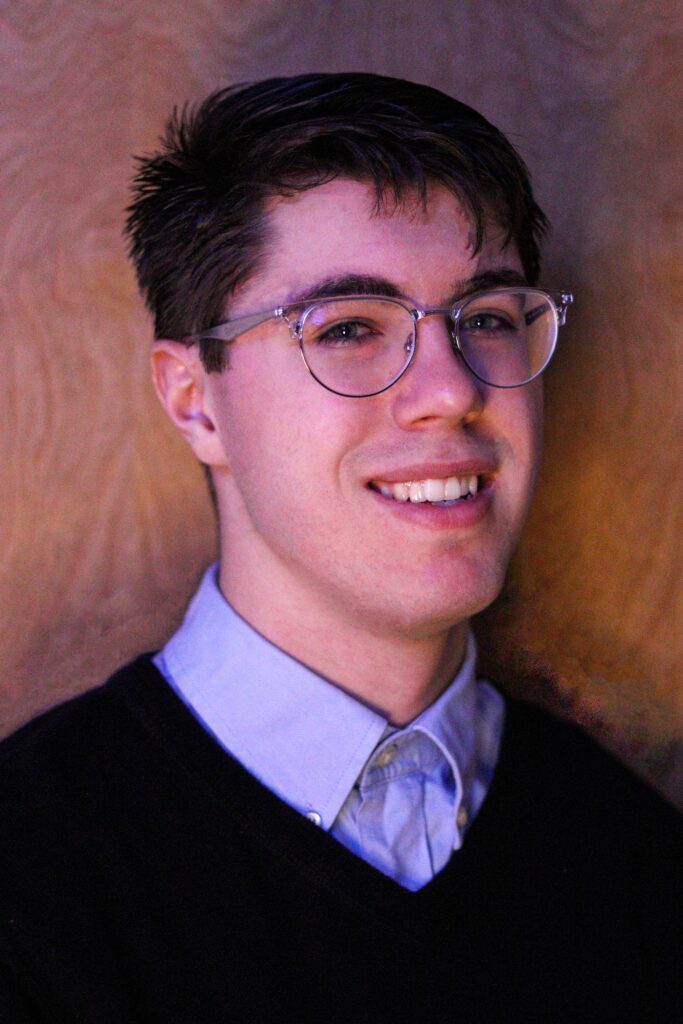 ---
Natalie Hamm, Coe College
Spring 2022
As a part of her internship at Brucemore, Natalie produced a blog post each week. Click through the posts below to learn more about Natalie, her work at Brucemore, and her passion for history.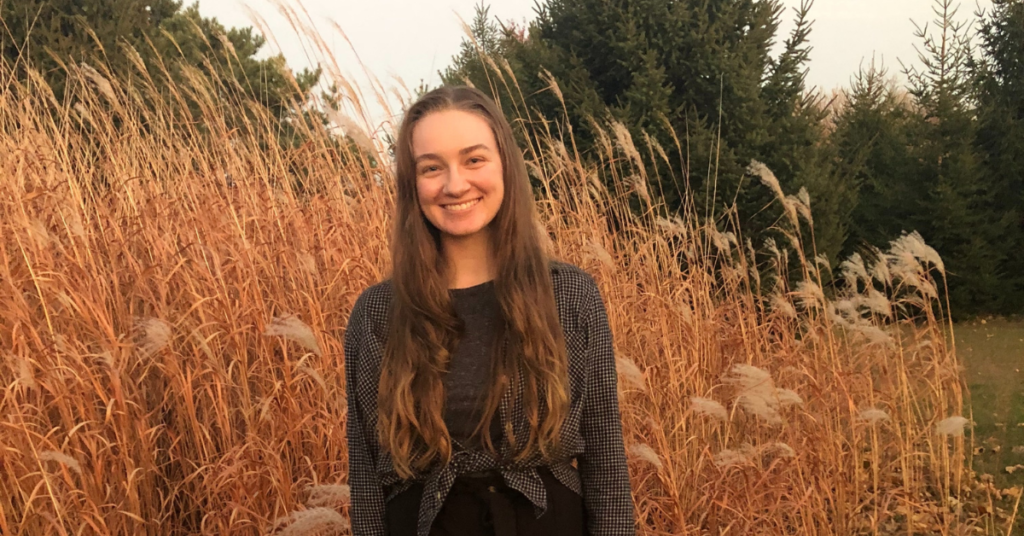 Blog #1: Meet Natalie!

Prompt: Introduce yourself and your major internship project to our audience

Hi everyone, and welcome to my first Brucemore blog post! My name is Natalie Hamm, and I'm a new intern here at Brucemore. I'm originally from Portage, Wisconsin, and I'm currently finishing up my Senior year at Coe College, where I am double majoring in History and Spanish. You might not expect it, but History and Spanish actually intersect a lot – many of the Spanish classes I have taken have essentially been history classes, just in the Spanish language.

As a lover of history, I love learning about pretty much anything. I particularly love pop culture history, even if it's information that no one will ever need to know. For example, I can tell you the entire timeline of Britney Spears' and Justin Timberlake's songs about each other after their break-up in 2002 (I won't, for your sake, but I could). I also love learning about the history of baseball (I'm a huge Milwaukee Brewers fan!) and anything involving Laura Ingalls Wilder. As a child, I used to lecture my older brother's friends on Laura Ingalls Wilder's family tree during carpool rides (where they couldn't escape!). My obsession with history is finally paying off; I get to be around people who love learning and talking about history as much as I do.

I started interning at Brucemore last week, and I'm already having a lot of fun exploring the type of work I'm interested in pursuing post-graduation. I started my major project, where I am working on updating Brucemore's digital catalog. For this, I've been going through some of the books in the library located in the mansion and entering information into a digital collection system for their records. Part of this information-gathering includes taking pictures of what the books look like now: their covers, title pages, and spines. These pictures will be helpful for future reference to make sure we know what they look like now, and the information in the digital catalog is important because it will be easier to know a book's location by easily looking it up in a few clicks.

I'm having a great time working on everything and getting to see the various titles within the library; it's always fun to see what people found interesting "back in the day." For example, some of the books I just went through were volumes called The History of North America, and the books were printed in the first decade of the 1900s, so the books only go up to those years. That's a lot less information about North America that people/students needed to know! I used to think about this when I read Little Town on the Prairie by Laura Ingalls Wilder, where she and her friend had to present on the history of the United States starting from 1492 till the 1880s, and I always thought it was so unfair because they had about half the amount of information to memorize than I did!

It's remarkable to think about the position in time someone is in… our two years ago will be someone else's 100 years ago – that's 100 years of information that we won't have to memorize because we lived it!
Blog #2: Time Travel is my Next Career Goal

Prompt: If you could live in any historical place or time, what would you choose and why?

Today, contemplating my prompt of "if you could live in any historical place and time, what would you choose and why?" I found myself wishing I could just visit a time period and not actually live in it. Going to a different era would be really fun if it were for a few days or so in each era because I would love to get to see how some historical figures actually looked. Portraits are only so accurate; what did Henry VIII and Anne Boleyn actually look like? If I had the power to time-jump and find out, I would go in a heartbeat (as long as I was dressed for the period!).

I've thought about this topic extensively and have come to the conclusion that I would be horrible at adapting to a time period any further back than the 1940s. I would love to see different eras of architecture and try on different styles of clothing; looking like a Regency era Jane Austen character or dressing as Laura Ingalls Wilder on the prairie would be fun! However, I wouldn't actually want to live in that time period because life would be a million times harder than it is today. I would 100% die of dysentery on the Oregon Trail.

[Note: I've seen some people like Bernadette Banner and Karolina Żebrowska on YouTube who sew their own clothing and dress up regularly in their favorite era's fashion (it's really cool- I wish I could sew like that!), and I feel like doing that would be the safest option.]

As a fan of the Outlander book series, where a woman from the 1940s gets sent back to 1740s Scotland, I have to say that going back to another time period sounds awful. I can't imagine leaving everyone I knew to go to a time where I had zero connections; depending on how far back I went, I might not understand the lingo and could possibly offend someone by not understanding their social and cultural practices. Would I need to curtsy? Knowing me, I would totally fall mid-curtsy in an attempt to be socially acceptable.

If I had to really choose and couldn't live in this time period anymore, I would probably want to go back to the 1960s and live from there on; that way, I would be able to go see the Beatles, the Monkees, Janis Joplin, Linda Ronstadt and a bunch of other artists that I would love to see live-in-concert. Maybe I'd go back further to the 1950s and see artists like Buddy Holly and Ritchie Valens before they died.

Would I change the future if I knew what was going to happen? I feel like I would inevitably, unintentionally change the future simply by living in the past; my presence wouldn't belong in the past, so maybe I'd change the future by walking across the street and making a car stop for me. Who knows? If I went to the past with the goal of intentionally changing the future, I would probably mess up a million things for everyone- but I still would definitely try to save John Lennon, and then I'd tell George Harrison to stop smoking. I would do anything to get the Beatles back together, so I guess time traveling is my next career goal!
Blog #3: Community, Hometowns, and Museums

Prompt: What does community mean to you? Do you have any favorite museums doing good in their community from your hometown?

This week I reflected on what makes something a community and how museums in my hometown positively impacted my community. For me, a community consists of people who identify with each other for one reason or another. This could be school, could be location, religion, or a community based on a hobby or passion, like Quilters or Harry Potter fans. Every group is a community, and my hometown of Portage, Wisconsin is a community, too. The museums in Portage do a great job at preserving memories of past communities while educating the current one!

Portage has a surprisingly large number of museums for the size of the city. We're a city of just over 10,000 people (when going to school as a child I would pass the sign that listed the population, but then it changed in 2010 after the census, and for some reason I could never remember the exact number after that!). The reason that we have so many museums is because we're a very historical city in terms of importance to the state of Wisconsin (no, we don't highlight that Jeffrey Dahmer died in the local prison, that's a not-so-fun fact). Portage was a relevant city (still is to me!), and some really interesting people have come from there.

Frederick Jackson Turner, who wrote the frontier thesis in 1893, was born in Portage in 1861, a fact which is on a plaque in the Commerce Plaza in Downtown Portage. The frontier thesis basically stated that the American Frontier was essential to American democracy and national identity (hmmm, could we say, the community of Americans?) and that the Western Frontier was settled (this idea would be used to justify imperialism for Americans in the 1890s and onward, but that's a story for another time). Portage has ties to other historical figures who are important to the community including the one and only Zona Gale, who was a famous author.

One of the coolest museums we have is called the Museum at the Portage located in Zona Gale's old house in Downtown Portage. This site does a great job at keeping alive the historical memory of people, places, and important events, with archives, museum tours, and records for people to find their family members in obituary indexes that date back to 1850. In this way they help the Portage community remember people of the past and keep the history relevant to the present. I also totally recommend going on a tour; there's a bathroom in Zona Gale's house that's completely purple and therefore perfect.

Other historical museums in Portage include the Portage WWII History Museum, Fort Winnebago Surgeons Quarters, and Historic Indian Agency House. As a fourth-grade student I got to visit both the Surgeons Quarters and Historic Indian Agency House, and they were great experiences for me where I got to learn about the historical context of the location of Portage.

Other things I recommend in getting to know the history of Portage: we have a canal and also a levee along the Wisconsin River, where you can walk and look at the river (great for the view, even better for the flooding prevention!). Also, part of the Ice Age Trail goes through Portage, where you can walk along the Fox River and beyond. The rivers made for easier transportation and made Portage a place-to-be. Jacques Marquette and Louis Joliet entered the Wisconsin River in Portage in 1673, and the use of the rivers gave Portage its name- Native Americans would "portage" their canoes between the Fox River and the Wisconsin River. Canoeing or kayaking up and down the Fox River is one of my favorite pastimes when I'm home in summer!

This became more of a promotional post for Portage than it was supposed to, but I think this also shows how ingrained I am with the Portage community- we have a lot of cool stuff, so come check us out… after visiting Brucemore of course!

Photos courtesy of author
Blog #4: From the Collection- the Stereoscope Viewer

Prompt: Use an object from the Brucemore collection and create a post connecting the object to the history of Brucemore and today.

Virtual reality is an up-and-coming technology that's been highly publicized in recent years—some people are all for it, while others aren't so thrilled. No matter your stance on virtual reality, you can credit (or blame!) the inventors in the 1800s who created the Stereoscope Viewer, which began the phenomenon that has now evolved into virtual reality devices. The Stereoscope Viewer inspired total immersion into images; besides virtual reality, we might compare them to View Masters (remember View Masters? I used to use them to look at images of Disney characters!). If you're unfamiliar with those, think of 3D glasses, where your peripheral vision is limited so you feel like you're a part of the experience.

Top-down image of Stereoscope Viewer. Photo courtesy of Brucemore.

The particular Stereoscope Viewer shown above is part of the collection at Brucemore! It might look heavy, but is remarkably light; it needed to be light for adults and kids alike to be able to use it and be entertained. Stereoscope Viewers were something for the entire family to look through, like listening to the radio together. They were a form of pure entertainment.

Stereoscope Viewers became a big deal after Oliver Wendell Holmes Sr. created his version for the American market. He purposely didn't patent it so it could be more accessible, and it worked; Holmes' invention became wildly popular in the United States, especially amongst upper and middle class families, due to its affordability and trendiness. Essentially, it was cool to have a Stereoscope Viewer because it's what all the cool kids were doing. Plus, it was a new way to receive information about places or people!

According to this article by the Smithsonian, Stereoscope Viewers were popular with astronomers, who could take pictures of the moon and look at it more closely to discover new things. The Douglas family at Brucemore likely would have been supportive of this because they were supporters of the Lick Observatory, an astronomical research unit at the University of California. According to the Publications of the Lick Observatory (which is in the Mansion Library at Brucemore!) the Douglas family helped to fund the D. O. Mills Expedition to Santiago Chile and the Chile Station of the Lick Observatory from 1917-1922. This, and more-so the Douglas family's prevalence in upper class society, would explain why the Douglas family would have purchased a Stereoscope Viewer, as it was trendy, a sign of progress, and an entertainment and educational tool.

Inside cover, Publications of the Lick Observatory, part of the Brucemore Library.
Photo courtesy of the author.

Introduction, Publications of the Lick Observatory, part of the Brucemore Library.
Photo courtesy of the author.

As someone who grew up with a View Master, the Stereoscope Viewer feels very familiar to me as a tool of entertainment. However, I don't recall using my View Master as an educational tool; the Stereoscope Viewer was so relevant because it also showed people what they otherwise would not be able to see (I had television for that!). It's interesting to see that human curiosity created a market for the Stereoscope Viewer and that we're still curious people who always want the latest technology. People are always adapting to trends, and this trendy device's relevance hasn't gone away since it has inspired a newer generation to create their own form of Stereoscope with virtual reality!
Blog #5: If I had a Million Dollars

Prompt: If you had a million dollars, what type of museum would you build/fund and why? Imagine one revenue-generating program to include in your museum.

It's difficult to imagine having a million dollars to create or fund a museum; it's even harder for
me to think of having to choose just one. There are so many museums I would love to fund, so
instead of choosing from that, I tried to come up with an interesting museum idea. The challenge
was finding something there wasn't already a museum for – there are museums for just about
everything! From what I've researched, this exact museum doesn't exist yet – but it should!

If I had a million dollars, I would build a Hardy Boys and Nancy Drew Museum, a museum
which would focus completely on the books and TV shows. Growing up some of my favorite
books were The Hardy Boys and Nancy Drew Mystery Stories, and when my family would go on
drives to my grandma's house, my brother and I would watch the show on portable TVs. This
type of museum would be interesting to TV lovers, book lovers, and people interested in
mysteries!

Image courtesy of
clickamericana.com

One section of the museum would focus on the books, and it would be interactive. There might
be more collectors' items that people couldn't touch, but then there would be newer versions of
books that people could spend time reading. It would be a great way to bring families in!
Because The Hardy Boys series and Nancy Drew Mystery Stories were written under
pseudonyms (Franklin W. Dixon for The Hardy Boys and Carolyn Keene for Nancy Drew) there
would also be an area focusing on the authors who wrote the books – several authors wrote
books under these pseudonyms and deserve a spot to be recognized.

There would be another area in the museum based on the actors from the TV series The Hardy
Boys/Nancy Drew Mysteries with Shaun Cassidy and Parker Stevenson as Joe Hardy and Frank
Hardy, respectively, and Pamela Sue Martin and Janet Louise Johnson, who both played Nancy
Drew in different seasons. I get a kick out of cardboard cut-outs, so I would definitely advocate
for having cardboard cutouts of the actors as their characters within the exhibit on the shows.
There could also be a nod to the Nancy Drew movie that came out starring Emma Roberts and
the more recent Nancy Drew series on the CW and The Hardy Boys series on Hulu, but the main
focus would be on the books and the late 1970s television series.

The museum setting would be based on the set of the shows because I think it would be cool to
be immersed in the experience, especially when implementing my revenue-generating program
for the museum. A way to bring revenue in would be to have escape-room like situations; each
month a new mystery situation would be created for people to come in and attempt to solve.
Friends could come in as groups and try to solve these mysteries, which would bring in revenue
for the museum and also be a really fun way to engage people who might not even be interested
in Nancy Drew or The Hardy Boys but still enjoy solving mysteries. This would engage all ages,
and because a new mystery would be created every month, people would be interested in coming
back for more!

To add the cherry on top, Shaun Cassidy music would be playing 24/7 in the museum; if that's
not enough to interest the entire world population, then I don't know what is.
Blog #6: Project Update!

Prompt: Provide an update on your internship at Brucemore.

Hello, people of the internet – I've been interning at Brucemore for just about 2 months now, and
boy, do I have some updates for you!


During my internship I've gotten to meet with several Brucemore staff members one-on-one and
learn about what everyone does to keep Brucemore up-and-running. It's amazing to see how
passionate everyone is about preserving the integrity of Brucemore, and I've really learned a lot!
Besides these blog posts, I'm also starting to follow along on some tours, which has been really
fun. If you've ever been on the grounds of Brucemore, you know that there's a lot of wildlife to
see. A couple of weeks ago, when I was helping out with a Nooks and Crannies tour, we ended
up seeing some deer running behind the Mansion! It reminded me of home; there are a lot of deer
that come by our house around dusk, too.


Speaking of animals, about a month ago, I had an encounter with a different animal that I wasn't
expecting. I was walking from the Visitor Center to the mansion to go work in the library, when I
spotted a blurry shape move towards me on the sidewalk. As it got closer, I thought, is that a
squirrel? That's way too big to be a squirrel… is it a bunny? No, it's a cat! The cat and I had a
standoff of sorts; I kept walking, he kept walking, and we both kept walking until I realized that
he wasn't going to move out of the way. I ended up walking into the mud to move around the cat,
and he just looked at me like, "What? You were in my way." The encounter made me laugh, and I
found out later that his name is Charlie, and he lives in the studio on the estate. You may already
know this if you're an avid Brucemore follower, but I have now learned that Charlie may not be
king of the jungle, but he is king of Brucemore (and the king of our hearts).


If you've been following along in my blog posts, you may remember me talking about the
cataloguing project that I'm working on. My job is to go through the books in the library
and log their information in to Brucemore's digital catalogue system. So far, I've gone through
about two shelves worth of books, which may sound like a small amount of books but adds up to
over 100 books! Throughout this process I've had some fascinating finds including newspapers,
pamphlets, and photos that were hidden between the pages of books (I also found a dead ladybug
as I pulled a book out from the shelf, but unlike my usual self, I kept calm and didn't freak out –
if it had been alive, that might have been a different story!).


Looking through the books in the library is incredible; the library is full of books from an
astounding variety of genres and topics that show that the Douglas family was interested in
learning about different philosophies, religions, ideas, and historical figures. Keep an eye out this
spring, because I'll be creating some posts on social media about some of the cool finds I've
discovered within the Brucemore library!
Blog #7: The Brucemore Playlist

Prompt: Choose a collection of songs, from any era, that you believe fit well into the history of Brucemore. Share the links so others can enjoy the "Brucemore Playlist!"

While this song was written in the 1960s (and was written about Paul Simon's travels
around the U.S.), and the Douglas family came to the U.S. in the 1800s, it still captures
the feeling of people traveling around or coming to America. It depicts the hope and
dreams of people searching for something new in the United States, just like the Douglas
family did when they left Scotland.

Our House – Crosby, Stills, Nash & Young

"Our house is a very, very, very fine house. With two cats in the yard, life used to be so
hard; now everything is easy 'cause of you." One of the most beautiful songs ever,
Crosby, Stills, Nash & Young evoke the feeling of peace and happiness, which is exactly
the kind of feeling that I get when I'm around Brucemore. It must have been wonderful to
actually live at Brucemore!

Small Town – John Cougar Mellencamp

While Cedar Rapids isn't necessarily a small town, it has a very small town feel to it,
which is what made me decide to go to college here! The song has an appreciation for
small towns, so it's a perfect fit for the atmosphere of Brucemore.

I've Been Everywhere – Johnny Cash

While Johnny Cash mentions Oskaloosa, Iowa in this song, it's not the reason I chose it.
The Douglas family, and upper class families at that time, would travel for vacations over
summer and winter and be able to go to several locations. Johnny Cash depicts a
different lifestyle but embraces traveling in this song, which definitely fits the mood.

I chose this song because of the Brucemore Mansion's library; while the whole song is
about Belle, an iconic Disney princess, there's a brief mention of the library and Belle's
love for books, so I had to include it! The library is one of my favorite places in the
Brucemore Mansion, and it's clear from the books in the library that the Douglas family
had a true appreciation for books and learning.

The Douglas daughters, Margaret, Ellen, and Barbara, were incredibly talented in the
arts. It's only fitting to add a song about taking care of daughters and raising them to be
great; this song is a dedication to daughters everywhere.

Castle on the Hill – Ed Sheeran

I found a song by Hank Williams called "Mansion on the Hill" and thought, ooh, this
should be good!… and then I looked at the lyrics and realized it was pessimistic and not
in the spirit of Brucemore, so I found "Castle on the Hill" by Ed Sheeran. It's about
making memories with friends and families and growing up. Plus, Brucemore is also on a
hill!

The Schuyler Sisters – Hamilton

What's more fun than sisters bonding?… Sisters bonding in musical theatre! This song
depicts sisters having fun going through town together, being intelligent, and standing up
for themselves. The Schuyler Sisters is about three sisters with connections: Angelica,
Eliza, and Peggy, and the Douglas sisters were also a group of three: Margaret, Ellen,
and Barbara!

Can You Feel the Love Tonight – Elton John (The Lion King)

Obligatory lion song! This song is specifically here because I felt that it was necessary to
include a song from the Lion King soundtrack since Margaret Douglas Hall and Howard
Hall had three lions at Brucemore, all named Leo.

Here Comes the Sun – the Beatles (George Harrison)

George Harrison wrote this song as spring was beginning and while he was walking
around the home of his friend Eric Clapton. The song depicts the beginning of spring and
invokes hope in the listener. The sunlight on the Brucemore Mansion and the grounds is
super beautiful, just like this song!

Reminiscing – Little River Band

This song is one of my all-time favorite songs ever. "Reminiscing" is about exactly what it
says it is: reminiscing, or looking back on something in your life with feelings of nostalgia.
Brucemore often invokes these feelings in visitors, some who have known the estate for
years and have fond memories, some who have never seen Brucemore but feel
nostalgic for a different time period.
Blog #7: Brucemore A-to-Z

Prompt: Choose something from Brucemore, or that relates to the history of Brucemore, for every letter of the alphabet.

My task this week was to write Brucemore A-Z, which is 26 letters of me trying to sum up some of the coolest things about Brucemore. Obviously I can't capture every cool thing about Brucemore, otherwise this blog post would be even longer than it already is!

Arnold Room

This room is my favorite room in the mansion to be in; it's the sitting room off of the Master Suite. When the sun shines into the room, it feels like being inside of an Easter Peep candy because the room is so yellow that it just dominates the atmosphere. It's probably the coziest room I've ever encountered!

Book Binding

Irene Douglas participated in book binding as a hobby, and if you ever go into the library in the mansion, you can see a lot of the books she bound together! The binding is really well done and super fancy; it makes me want to get back into more arts and crafts.

Coe College

All of the families who lived at Brucemore were incredibly involved in the Cedar Rapids community, which included Coe College (Yay Coe!). The Douglases were trustees at Coe, and Coe still remembers the families with buildings' names like Sinclair Auditorium, named for T. M. Sinclair, and Douglas Hall (one of the dormitories), named for George Bruce Douglas.

Douglas Era

"The Douglas Era," which lasted from 1906 to 1937, is the era that Brucemore mansion is restored to look like! The Douglas family, which consisted of George Bruce Douglas and Irene Douglas and their daughters Margaret, Ellen, and Barbara, lived here during that period.

Edison Phonograph

This is a popular artifact found in the study in the mansion and was a tool for music and other entertainment. I know it would be kind of inconvenient in modern times to have that big of a device playing music, but I think the shape of it is so elegant!

Fireplaces

Brucemore mansion contains a whopping FOURTEEN fireplaces, along with five chimneys to go along with them. I find it fascinating how all of the fireplaces have their own artistic flare to them; while they were used for additional heat sources, they were essentially decorative pieces to showcase the family's wealth in a classy way.

Grant Wood

There are a few pieces of Grant Wood's artwork on display in the mansion, the most featured being the Grant Wood Sleeping Porch, created in 1925. Irene Douglas and Grant Wood worked together as part of the Cedar Rapids Art Association!


Hall Era

The Hall Era is the third era of Brucemore, when Margaret Douglas Hall and her husband Howard Hall lived in the mansion from 1937-1981 (Howard passed in 1971). The Halls, like the Douglases and the Sinclairs, were incredibly involved in Cedar Rapids and generous to the community.

Irene Hazeltine Douglas

Irene was the matriarch of the Douglas family, who lived from 1871 to 1937. She was in charge of managing the household and was incredibly involved in the community. I imagine she would have the coolest stories, considering how many people she had connections with; she was basically Cedar Rapids royalty, if that were a thing!

Irene Hazeltine Douglas
Photo courtesy of Brucemore.

Journeys

The three Brucemore families went on many vacations, or journeys, to different places in the country due to their financial ability to do so! For example, the Sinclairs went back and forth between Brucemore and their home in Philadelphia, and Howard Hall, who had a lot of connections in Hollywood, would travel to California.

Kitchen

The kitchen in the mansion has always been particularly interesting to me because of how much more modern (but still dated!) it is. The green table and chairs are more of a 1960s/70s style because there were no historical pictures of the kitchen, which the servants frequented, during the Douglas era, so it was not restored back to the Douglas era like many other spaces in the mansion.

Leo(s) – the Lions

Howard Hall with Leo II
Photo courtesy of Brucemore

Pretty much everyone who knows about Brucemore knows about the three lions named Leo that the Halls had as pets at Brucemore, but it's probably because it's the most "out-there" fact and crazy to think about! Some people can't train their own dogs, I can't imagine trying to train a lion!

Mural

The Mural of the Ring of the Nibelung (or in German, Der Ring des Nibelungen) is one of the mansion's most fantastic pieces of art. It depicts the 14.5 hour opera by Richard Wagner and wraps around the Great Hall. I personally don't think I could sit that long and watch an opera; I would need to see it in maybe seven two-hour increments… but if you think about it, was this opera the original version of binge-watching?

Nursery

N is my favorite letter (definitely not because my name is Natalie, okay, definitely because of my name), and the Nursery is another one of my favorite rooms in the Mansion (see "Wallpaper" for more details!). It's like being inside of a nursery rhyme and was probably a really fun room to play in as a kid.

Organ

The Douglases installed the Skinner Player Pipe Organ in the mansion in 1929. It plays automatically so no one has to actually play the organ! When touring the mansion, you can hear song snippets and see the panels move on the third floor (it's pretty loud if you're up there!). I had a discussion with someone touring the Mansion who thought it would be funny if, to wake guests up at Brucemore, the families had turned the organs on to startle them awake.

Portraits

There are quite a few portraits hanging in the mansion, some that depict Mary, Queen of Scots, George Bruce Douglas, and Mrs. Margaret Douglas. There's one in the guest room of an unknown relative of George Bruce Douglas – it's a great piece of artwork but is also known by some as the "Scooby-Doo painting" because the eyes seem to follow you no matter which angle you approach it!

Quaker Oats

George Douglas Sr.'s cereal company, Douglas and Stuart, later merged with the Quaker Oats cereal company!

Restoration

Brucemore is constantly in a process of preservation and restoration in order to be able to keep it open and functioning. Right now, the Brucemore staff is working on restoring damage from the derecho, with projects like restoring the roof and landscape restoration!

Sculpture

One of the prettiest pieces in the Mansion, in my opinion, is the sculpture of a kneeling woman that Margaret Douglas Hall created. It really shows off her artistic abilities; I've tried to make sculptures in art class before and could never have achieved the attention to detail she was able to show on this sculpture!

Titanic

The Douglas family is connected to the R.M.S. Titanic because George Bruce Douglas' brother Walter and sister-in-law Mahala, along with their maid Bethe Leroy, were on board the Titanic. Although Mahala and Bethe survived, Walter sadly passed after giving up his seat on one of the lifeboats and chose instead to help others get into lifeboats.

Upper Class

All of the families who lived in Brucemore were from the "upper class" society (they'd have to be in order to afford to live in a mansion!). Besides the wealth displayed in the mansion, their upper-class status is also displayed in what wouldn't have been seen; a whole side of the mansion meant for servants to do their work out of sight.

Visitors

Brucemore has a lot of visitors who come to either tour the mansion or the grounds! It's always fun to get to meet people who come to learn something new or come back and revisit!

Wallpaper

Brucemore has a lot of wallpaper in the rooms in the mansion. My favorite is the nursery wallpaper, which is now a replica of what the wallpaper used to look like, according to a reference photo from 1908. The silkscreen wallpaper on the second floor depicts a hunting scene and was installed in 1928.

Historic Photo of wallpaper in the Nursery
Photo courtesy of Brucemore

Xmas

In her book, Irene Douglas mentioned December 25, 1916 as being a "Wonderful Xmas day – lots of snow and sunny." The Douglas family have given some good presents to each other, in my opinion – while going through the books in the library, I've found several dedications inside the books that say they were given as Christmas presents!

Yacht Club

I was going through the tour guide manual and came across a quote where Howard described hanging out in California and going to a place "where they were having an annual Yacht Club celebration." I personally would love to go hang out on a yacht – if anyone knows anybody, let me know– Leonardo DiCaprio, Billy Joel, Nicole Kidman, I know you have yachts, I'm talking to you!

Zeal

This word was difficult to come up with an answer for; I thought about doing "zoo" for all the animals that have been at Brucemore, but I thought a less predictable but more fun word would be "zeal" because the families who lived in Brucemore were involved in philanthropic work and had a real passion or "zeal" for it!
Blog #8: The Final Blog Post

Prompt: Provide a final update on your project, and share some of your favorite experiences from the internship.

Writing this blog post is making me a little melancholic because it means, dear reader, that my time at Brucemore is coming to an end. This is my last blog post here; I hope you've enjoyed this series and have had as much fun reading my posts as I've had writing them!

I've learned a lot over this experience at Brucemore: how to catalogue books, how to write for an audience and not just my professors, how to edit videos, and how to have fun doing it all!

I've also learned that when I type "catalogue" my computer thinks it's misspelled because apparently it's the British English way of spelling it… (I can't bear to spell it as "catalog" though; there's nothing wrong with that spelling, but I just think the "ue" ending makes it look *that* much more sophisticated. It's like "grey" vs. "gray," but here's how I see the grey/gray situation: whenever I write "gray" I picture a happier color, and when I write "grey" I think of a gloomier shade. Connotations are fun!).

One of the most fascinating things I've learned while interning at Brucemore is that the Douglas family had an interest in books that I wouldn't have assumed they would have had. They had a Qur'an (their book's title was spelled Koran – a western spelling of the word), and they had books on other religions like Buddhism and on cultures and histories in Asia, Europe, and North America. I found it most interesting to look at the distance between the person a book was about and the year it was published; they had a series of books on Otto von Bismarck written by a close companion of Bismarck, which I would assume might have been more complimentary to Bismarck at the time, pre-World War I.

I really enjoyed getting to help out with the Nooks & Crannies tour and help out on a regular tour day. I learned that by walking around and switching up which staircases I went up in the mansion, I could confuse people a LOT. One visitor thought I might have been a ghost because I kept popping up everywhere, which I found pretty hilarious! Helping out with the tours made me learn even more about Brucemore than I found in the tour-guide manual; I shadowed Jerry (the Tour and Visitor Services Manager) for a tour day, and it seems like he knows pretty much everything there is to know about Brucemore, and maybe… everything??

Interning at Brucemore has helped me see the amount of work put into running a museum and has made me appreciate museums even more than I already had! Getting to actually be involved in the work, cataloguing the books, was some of the most rewarding work I've ever been a part of. Not only did I get to get a sneak peek into the lives of the Douglas family, I got to enter in around a couple hundred books into the digital catalogue system! It was really fun and I'm super grateful I was able to have this entire experience.

And now as a final farewell, here is probably the most iconic way I could say goodbye…. To youuuuu.