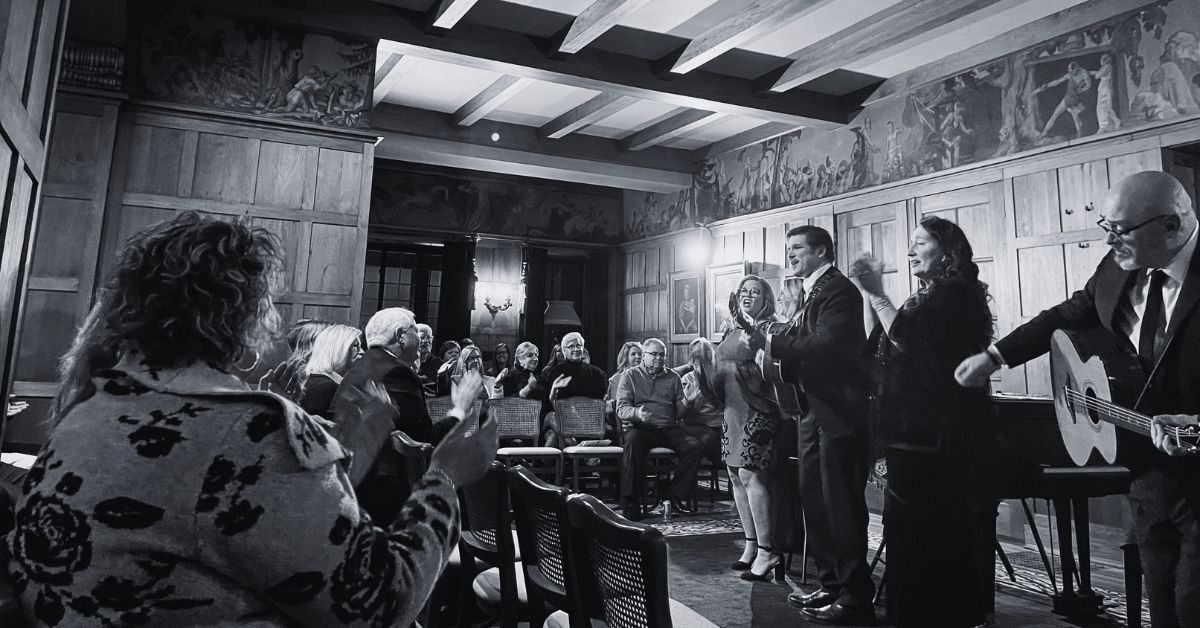 Brucemore and SPT Theatre are excited to bring A Modern Salon back to the Great Hall of the mansion! Join us for an evening of music and stories with SPT members and special guests David Morton and Patrick DuLaney. Emulating the Parisian salons at the turn of the 20th century, guests can experience an evening of wine tasting and light food as if they were friends of the Douglas family who called the estate home.
A collaboration between two non-profit corporations, Brucemore and SPT Theatre Company.
---
Ticket Information
$50 per adult (21+)
$45 for Brucemore donors – sign-in on the purchase page to receive your discount
Dates and Times: Performances begin at 7:30 p.m.; Doors open at 7:00 p.m. for wine tasting.
January 12 – Sold Out
January 13 – Sold Out
January 19 – Sold Out
January 20 – Sold Out
January 26 – Sold Out
January 27
---
Important information for your visit:
Arrival: Arrive via our main entrance, 2160 Linden Drive SE. There is self-parking near the mansion and Visitor Center
Check-in: The mansion will open at 7:00 p.m. Please do not arrive early as there is not room to wait inside.
Coats and Bags: Please leave large bags in your car. There will be a coat rack to hang coats at your own risk. It will not be monitored.
Food and Beverage: Selections of wine and soft drinks along with light appetizers will be available from 7:00 – 7:30 p.m. Dessert, champagne, and coffee will be served during intermission.
Intermission: There will be one 20 minute intermission.
Accessibility: The historic mansion is not wheelchair accessible at this time. There are several stairs to access the first floor of the mansion, which is where the performance is held. Please make the best decision for the accessibility of your party with this knowledge.
Photography: Photography is allowed for personal, non-professional use. Tripods, selfie-sticks or other photography equipment will not be permitted. Photographs should not distract from others enjoyment.
Safety: Masks are optional indoors and outdoors. Anyone who wishes to wear mask is encouraged to do so. Please exercise caution and stay home if you are feeling unwell or have recently been exposed to COVID. Read our full policy here.
Preservation in Action: Brucemore is in the midst of a multi-year preservation project designed to address preservation concerns on the exterior of the mansion. For more information on this work or to learn how you can be involved, click here. Brucemore is also continuing efforts to recover from the August 10, 2020 derecho which brought hurricane-strength winds through the estate. To learn more about that process, click here.
Ticket Policies: All ticket sales are non-refundable. Please read our ticket policy here.
---
Tickets Required
View our Ticket Policy
View our COVID Policy